How Counselors Can Implement Xello: Insights and Advice from a School Counselor
Kate McKenzie
|
November 18, 2020
Counselor Kate McKenzie outlines three steps to guide school counselors through a smooth and collaborative roll out of Xello this school year & empower students to become college and career ready.
It goes without saying that 2020 has been a firecracker of a year. From the pandemic to double hurricanes to protests to the upcoming presidential election, everyone has experienced some feelings of discomfort and stress.
This time has also given educators the opportunity to pause and reflect on expectations and procedures. I'm not just talking about masking up or adopting self-care strategies.
The abrupt dismissal of school in the spring poked holes in many educational practices throughout the nation, forcing teachers and districts to analyze what academic rigor looked like and which SEL programming was most appropriate and accessible for all students.
My own district emphasized that we shouldn't dwell on missed experiences or what could have been, but should instead celebrate the re-establishment of relationships and soft-skills in the classroom. Whether your district is back full time, offering a hybrid model, or completely remote, I challenge you to lean into this mindset and to encourage your peers to do the same.
Students don't need to know the stressful, minute details that went into planning this school year. They just need to know that you are in their corner cheering them on as they navigate through wins, losses, and all the lessons in between. 
Hopefully your district emphasized social emotional learning, and in tandem, future planning, during the professional development days leading up to the school year. Helping students develop a growth mindset is imperative these next few months, and utilizing evidence-based curricula ensures that students are receiving appropriate and timely instruction. 
College and career readiness programming lies with school counselors, as outlined by the American School Counselor Association.
That being said, many districts do not follow the recommended counselor to student ratio of 1:250, and therefore it is irrational to think that school counselors can be the sole provider of Tier 1, 2, and 3 future planning programming (as well as social, emotional, and academic counseling).
Turning to online programs, like Xello, can help extend and expand counseling practices.
Extending the use of Xello out of the counseling office and into classrooms and homes allows counselors to share the responsibility of future-readiness with teachers, families, and other educators within the district.
Future success should be the entire school's focus, not just an initiative to rest on one person's shoulders; a tool like Xello can unify staff around the importance of future-readiness and provide the supporting resources to make it easier for everyone to participate.
Leveraging technology, and weaving it into the academic fabric of the district through collaboration with classroom teachers makes ensuring student success much more manageable, providing  a more engaging and motivating service for students. 
Outlined below are three steps to guide school counselors through a  smooth and collaborative roll out of Xello this school year.  
1) Choose Your Communication Platform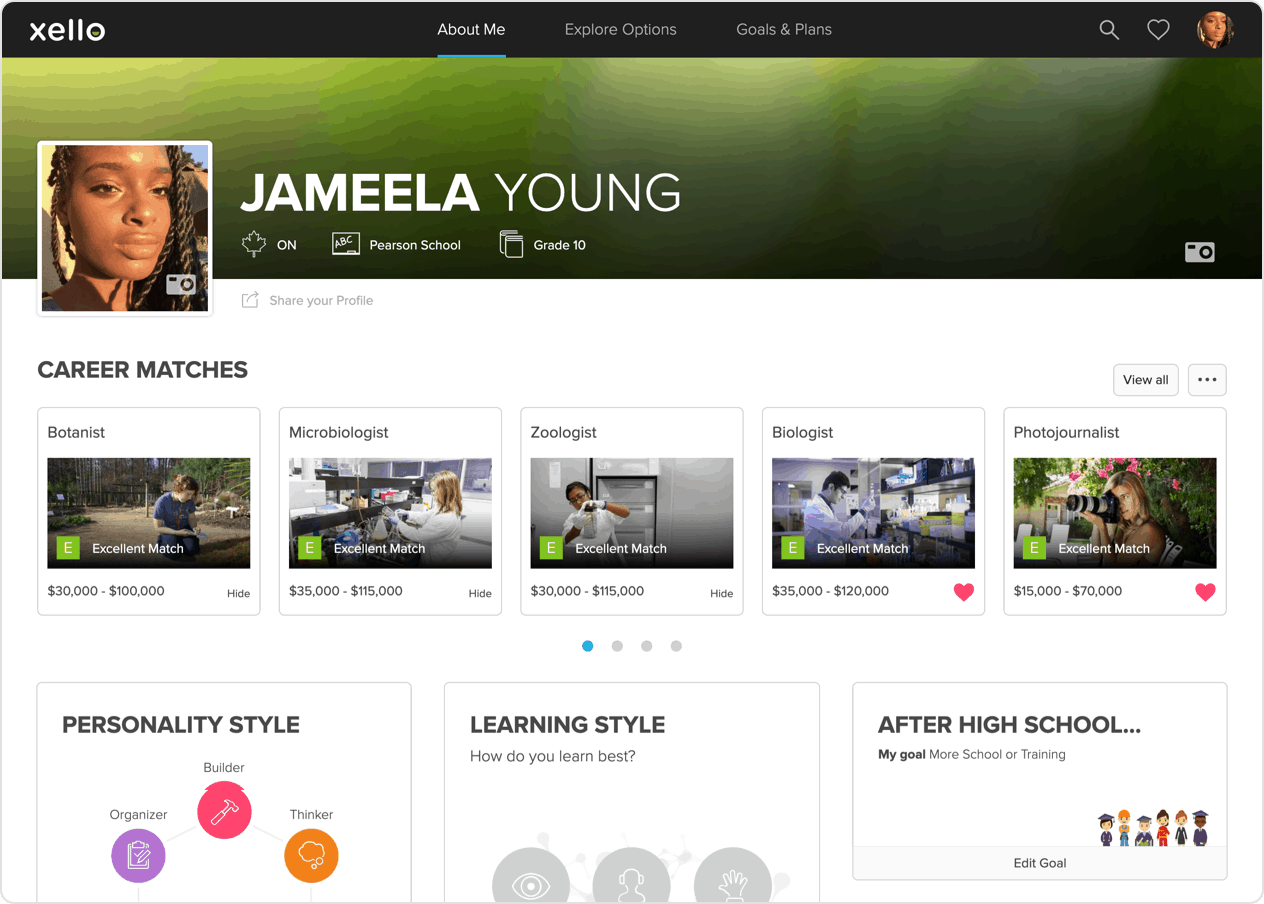 You may be excited to start building personalized lessons for your students, but the first step is to determine the method in which you're communicating.
One of the most valuable (and simple) tips that came out of remote learning in the spring was that educators should not teach the tool AND the content at the same time. In clearer terms, students shouldn't learn Google Classrooms, SeeSaw, Blackboard, or Schoology in the same lesson that they're also learning about Xello.
Your district probably has a mandated teaching platform. Make sure you know how to embed visuals, videos, and links to engage all learners and adhere to personalized education plans.
Take time to create a hub for all virtual student learning. Students should have a space where they can view upcoming assignments and plan accordingly, not just be told to visit multiple websites.
After some practice, students should be able to log in and access the platform quickly and independently. There are so many barriers to learning right now; it would be careless for one to be that students don't know where to go or how to find assigned resources. 
After you have developed your communication platform and helped students navigate resources, then comes the easy part: embedding Xello! One option is to link the standard login page for easy student access.
While this is a fine option at the high school level,  I've found that helping elementary-aged kids sign on and remember yet-another password takes away valuable learning time.
Therefore, the counselors in my district teamed up with Xello to create a single-sign on link for students. If students are signed into their school email account, they are automatically signed into Xello when they click the login button.
This has been such a game changer for Xello implementation in our district. Teachers no longer need to problem-solve login issues and can spend adequate time interacting with students and reflecting on lessons.
It is important to note that we've also seen a rise in at-home Xello usage since changing to the personalized link, once again proving that the program is beneficial and easy-to-use for teachers, students, and families. 
2) Set Expectations
My district consists of nine schools, and it is important to us that our students are hitting the same progress points at roughly the same time throughout the school year.
Instead of adhering to definitive deadlines, we created guides for each quarter for counselors and teachers to follow. That way, students cannot complete the year's lessons in one sitting, and they are revisiting college and career programming at least four times over the course of nine months.
There is no right or wrong way to use Xello, but it is important that it is aligned vertically and across buildings in your district. Counselors can utilize reports throughout the year to make sure students stay on pace, and also use those results to create small groups and individual planning meetings with students.
We are also planning to send home the introductory parent letter after the first Xello lesson of the year, and principals will include additional information in their weekly newsletters. We hope that this helps continue the conversations we have in our classrooms to ones families have at the dinner table.
3) Finalize the Nuts and Bolts 
The final step is deciding how and when your building will begin implementing Xello this school year.
As stated above, setting up lessons, introducing topics, and monitoring progress for every child is a lot for one person to handle. It is important to clearly define school leaders' roles to prevent burn out and so that all students can understand and discover their future academic and career possibilities.
Some buildings may have the luxury of employing multiple counselors. In this case, counselors can divide up responsibilities so that career programming, and the knowledge that comes with it, isn't held with one educator. This may look like splitting student tracking by grade level or rotating who delivers in-person instruction.
If you're like me and are the sole counselor in your building, it's helpful to onboard administration and teachers. I speak from experience when I emphasize that all of your teachers need to have access to Xello before your presentation. Teachers won't buy in if they can't log in!
It is also recommended to personally walk colleagues through the dashboard and give them a moment to explore different features of the program. Educators are juggling a lot right now, but carving out time to demonstrate and problem solve is much more effective than just sending an email with links.
A simple way to teach the ins and outs of the teacher dashboard is to play the multimedia resources, such as these for grades 6-12, that are short, clear-cut videos about the different Xello components.
I personally like to emphasize that teachers can assign Xello lessons, even with a substitute in the room, and feel fully confident that their students are engaging in important personalized learning.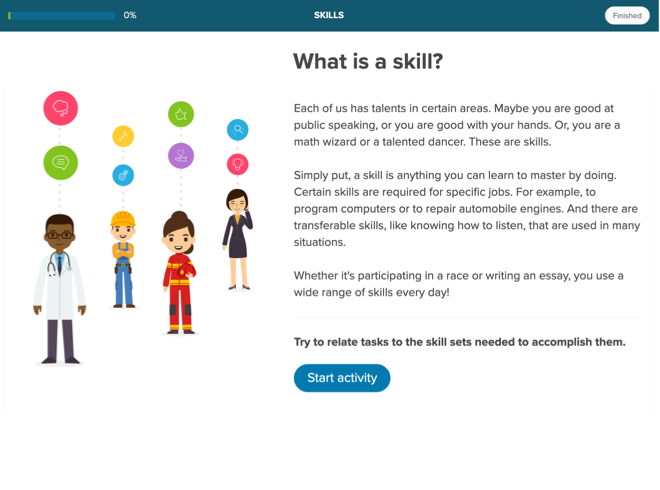 While school counselors can follow these three basic steps, below are specific suggestions to help schools use Xello within the various back-to-school models. 
Additional Tips for a Hybrid Model
It's always wise to teach new content in person, so reintroducing the platform to students face-to-face will be better for engagement.
Give students time to familiarize themselves with the website and understand all of its capabilities. This is also the chance for them to complete their profile and take any introductory assessments with guidance from the counselor or teacher.
This is honestly one of my favorite lessons of the year. I love walking around the classroom and hearing students connect with one another over assessment results and career goals.
After the introductory lesson, employ a flipped classroom model. Students can complete the various lessons online at home without teacher supervision. Xello has created the ability for educators to set up assignments to ensure students are completing specific lessons in a preferred order. The assignments are easy to create, and the lessons are self-guided and can be incorporated into any school subject's content.
Use in-person class time for extension lessons, either the ones recommended by Xello (here and here) or discussions that naturally come out of the assignments. When educators consistently allot time for specific learning targets, they signal its importance to students. 
Additional Tips for a Fully Remote Model
If you are fully remote this fall, hammer down those nuts and bolts for smooth implementation right from the get-go. Counselors should create a "one stop shop" folder for teachers to access expectations and guidelines as they roll out Xello in their virtual classrooms. 
Additionally, counselors can offer to push into live classes to emphasize the importance of future readiness and walk students through the introductory lesson. (Similar to the hybrid suggestions, it is recommended that teachers or counselors onboard students in a live virtual class.)
If this is your district's first year implementing Xello, teachers may be overwhelmed and lost. It is imperative that counselors ask for time to demonstrate the ins and outs of the program during a virtual meeting.
Time should be slotted for step-by-step guidance on navigating the dashboard, utilizing the educator tools, setting up lessons, using the chat feature, and accessing Xello videos for further troubleshooting.
A note for educators: Timelines become critical for high school juniors and seniors preparing and finalizing details about their post-grad decisions. Whether students are focused on career exploration or tracking college applications, they need constant reminders (ideally both in class and through Xello assignments) to continue the planning process. Spring will be here before you know it.
What If We Are Still In Person?
Full-disclosure: My district is back five days a week, full staff and students. This decision definitely has its perks (I totally underestimated how excited I would be to see those little ones the first day!), but there's also palpable nervousness in the building. What if we don't have enough substitutes? What if we have to go into immediate quarantine?
Our teachers are introducing students to technology much earlier than normal this fall. They want to make sure that students feel comfortable using the various online resources and understand the expectations that go along with each.
While I have my own counseling website that students can access, I also plan on requesting that teachers link Xello on their virtual classroom pages.
As an elementary school counselor, my goal is to present the concepts of community, careers, and future readiness to students as soon as possible. Again, I am planning to conduct every initial  Xello lesson myself in case there are any problems or questions about logging into the website.
I also like being the one to introduce the program because I can deliver a consistent message across the grade levels. For those who are absent, I plan to either pull them into my office for individual guidance or share a link to an introductory video I made for each grade level.
From there, I will work with the various teachers on implementation timelines and incorporating the lessons into their curricula. That way, if we eventually move to hybrid or remote, my students are already set up for success.
One last comment is that future readiness can't just be a program or curriculum; future readiness is a mindset educators must employ as they craft lessons, speak with students, and model behaviors. The constant incorporation of critical real-world skills into lessons will help mold students into competent, successful adults in the future.