Share Student Work Easily with Xello Portfolios
Jen Roberts
|
February 16, 2023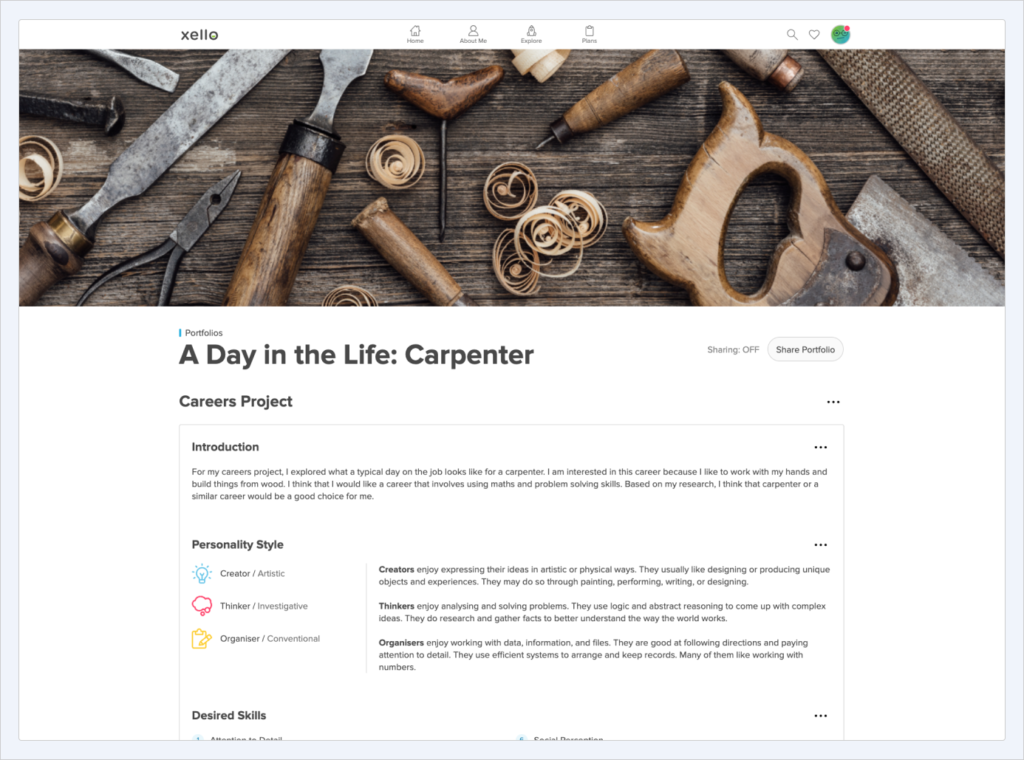 Xello is excited to launch Portfolios for students in grades 6-12!
Xello Portfolios lets students easily create and share vibrant digital portfolios to showcase their work across subjects and reflect on what they've learned.
Portfolios have long been recognized as an effective educational tool to show progress and mastery of a subject matter. By making student portfolios accessible within Xello, students, teachers, and families will get a more comprehensive view of a student's learning.
Here are some of the ways in which students, educators, and parents will benefit from this new online portfolio:
Portfolios empowers students to showcase their work and demonstrate what they've learned. Students can organize their work to create vibrant culminating projects, talent profiles, subject-specific projects, and more. Additionally, educators can give students the option to create shareable links to their portfolios so they can be viewed by colleges, employers, or members of the community.
Portfolios can be used across departments and in a variety of contexts. This cross-department access can help students highlight themes that could be beneficial for college or job applications and much more. Portfolios can also identify skills at which a student excels and can ensure work is completed on larger-scale projects such as work-based learning activities.
Portfolios is a great tool for educators and school counselors to assess a student's progress toward graduation. Teachers can easily review student work, provide personalized feedback, and better support student growth. Educators can also identify areas in which a student still needs to develop and use this information to inform their instruction.
Portfolios also helps parents stay involved in their child's learning, as they can closely monitor work from their Family Portal.
How it works
Xello Portfolios lets students showcase their work across different subjects to support everything from science projects to work-based learning experiences and more This gives students an opportunity to reflect on what they've learned, while highlighting the self-exploration and planning they're doing in Xello. They can add their own artifacts, like photos, videos, and journal entries. Portfolios also makes it easy for educators to track completion across student groups to ensure graduation requirements have been met.
To help students showcase their work, plus demonstrate and reflect on their learning, the Xello Portfolios gives students the ability to:
Share what they've learned across subjects
Incorporate activities completed in Xello
Include written reflections
Organize and delete Portfolio elements
Access previously uploaded Storyboard assets
Generate shareable links
Add Xello activity results and external media
Access support
With Portfolios built right into Xello, students and educators can focus more time creating engaging portfolios, and less time managing an additional tool.
To help educators easily track graduation requirements, Xello Portfolios:
Provides one accessible place where educators can easily view student work and track completion across student groups to ensure that graduation requirements have been met
Gives students a place where they can easily create and share culminating projects
Lets educators view students' portfolios in Xello, report on students' portfolio creation, and access information on students' portfolios
To support multiple projects and departments, Xello Portfolios:
Can be used by all students and departments to support subject-specific projects, college and job applications, work-based learning experiences, and more
Allows students to create multiple portfolios to support different classes
Gives educators access to students' portfolios from their Xello account
Allows educators to report on a student's portfolio creation
This cross-subject utilization is beneficial to students and to school districts. Students can get a comprehensive overview of their learning, while districts can optimize utilization of the tools that are already in use in their schools.
Ready to get started? Get inspired with these sample portfolios.