2022/23 Year in Review: What Launched in Xello?
Kate McKenzie
|
April 17, 2023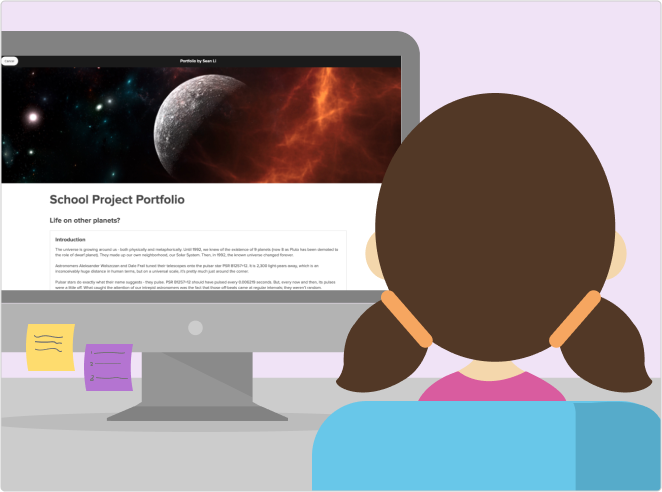 We've launched some exciting tools and features to help students, educators, and counselors get the most out of college and career planning.
It's been a busy year for Xello! As students and educators close out the 2022-23 school year, we wanted to take a look back at all the exciting updates we've rolled out this past year. From the new career planning tools to the enhanced academic resources, Xello has made great strides in helping students explore their interests, plan their future, and gain the skills they need to be successful.
The recent additions to Xello's products are designed to help students stay organized, motivated, and on track, all while providing educators with the tools they need to customize learning experiences and ensure progress. With these updates, Xello is helping to create an even better experience for everyone involved.
Here's a recap of the features we launched this year to help students and educators enhance their college and career planning experience and a preview of what's to come.
Key Feature Releases
We've released a range of new features and products to help students take control of their own educational journeys. Let's take a look at some of the most exciting updates.
Goals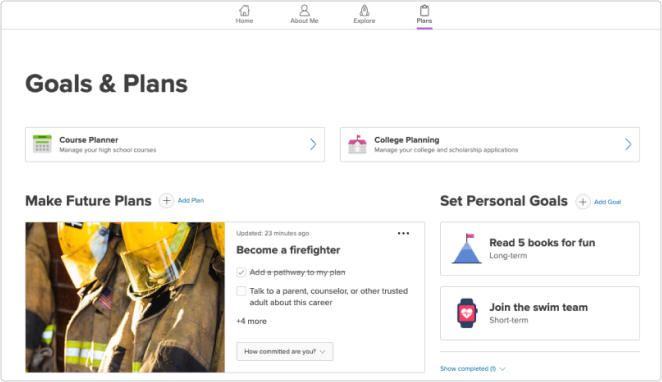 Setting and achieving goals is an essential part of the educational experience. At Xello, we understand how important it is for students to gain a sense of accomplishment when it comes to their academics, social life, and personal development. That's why we're happy to share our new updates that make goal setting even easier and more engaging.
Now, students can:
Create personal, academic, and social goals and tasks that fit with who they are, giving them control of their own learning and outcomes.
Add notes about what they learned after their goal completion, promoting self-reflection and encouraging a growth mindset.
These also make it easy for educators to get valuable insights into students' progress in order to personalize feedback and report on mandate completion.
—
Want to see Goals in action? Click here for a step-by-step walkthrough on how students can start to set goals in Xello.
Read about how starting goal-setting in middle school sets the tone for success in high school and beyond.
Portfolios
Students now have the ability to create and share digital portfolios of their Xello activities, external media, and personal reflections. Digital portfolios offer an opportunity for students to showcase their individual talents and accomplishments in an organized, visual format.
Digital portfolios can be beneficial for students of all ages, but are especially useful for high school students completing a Capstone project or preparing for college or job applications. Portfolios also provide a great way for students to create talent portfolios and highlight the skills they are developing.
—
Educators can access portfolios to report on student progress. Read how it works and learn more about the benefits for educators.
For some inspiration, check out these sample portfolios!
Instructional Tips for Xello 6-12: New Course in Xello Academy
Xello Academy is an online learning management system that provides free, self-paced courses to all educators with a Xello subscription. Upon completion of each course, educators are presented with certificates that may be eligible for professional development hours.
The latest course, Instructional Tips for Xello 6-12, provides educators with:
Information about Xello resources to inspire instructional planning with tips to help educators in their delivery of Xello.
Strategies and resources to use when introducing Xello to students, as well as activities and ideas to use throughout the school year that support the implementation of Xello within classrooms.
—
Are you a K-5 educator? Read how you can successfully implement Xello in the classroom.
College Planning Enhancements
Here at Xello, we want to make sure students of all pathways are supported after high school. That's why we've added the following enhancements to our platform:
Minority Serving Schools filter when students are exploring colleges. This feature gives students the ability to look into colleges that provide tailored resources and support services and opportunities to connect with a community of peers.
Redesigned school profiles. Students can now search and filter the majors offered at a given college, making it easier than ever to find the college that excels in their area of interest. New insights about graduate employment and salary, application requirements, minority serving institutions and more give students a well-rounded picture of a given college.

Redesigned college planning dashboard for educators. Educators can see a summary of the most important college planning tasks so they know what needs their attention and when. They can get an at-a-glance view of the Transcript and Recommendation Letter requests that need actioning, Common App forms that have been assigned to them, and a running tally of active and inactive local scholarships.
—
Want to read more college planning tips and tricks? Check out our collection of topical blog posts.
Interested in helping your college-bound students stay organized and on track? Check out our training webinar on April 27th: College Planning Tools in Xello.
Coming Soon to Xello
It's never too early to start planning ahead for next school year. Luckily, Xello will continue to roll out more exciting content that's designed to help students and educators make the most of their future readiness journeys.
Watch out for the following resources and features to embed in your classroom next Fall!
Subject Area Teaching Resources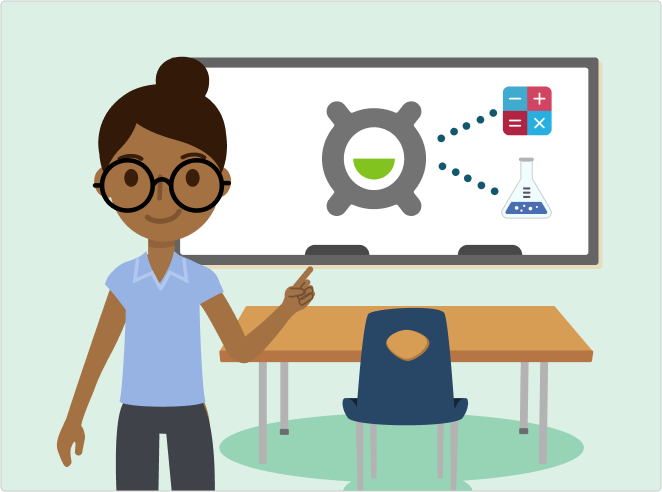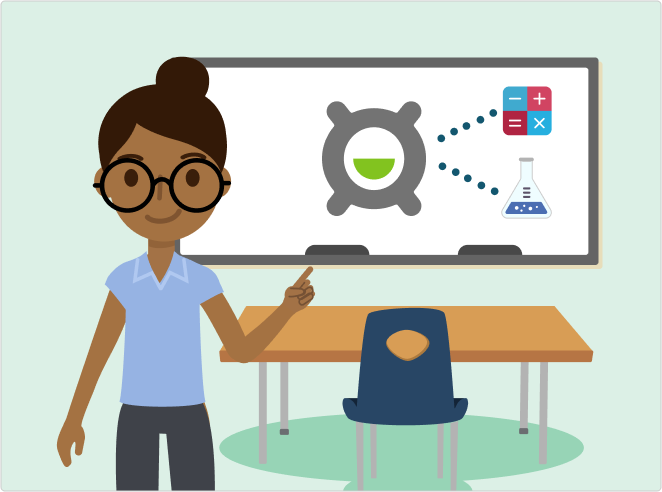 With a range of engaging videos and thoughtfully-designed lesson plans, Xello gives students the opportunity to draw connections between the subjects they're studying and the possibilities for their future.
Educators are also provided with content, ideas, and teaching strategies to make future readiness and post-secondary exploration relevant and engaging. With these resources, educators can help their students find their path and develop the skills they need for success in the ever-changing world of work.
—
Course Planner Approval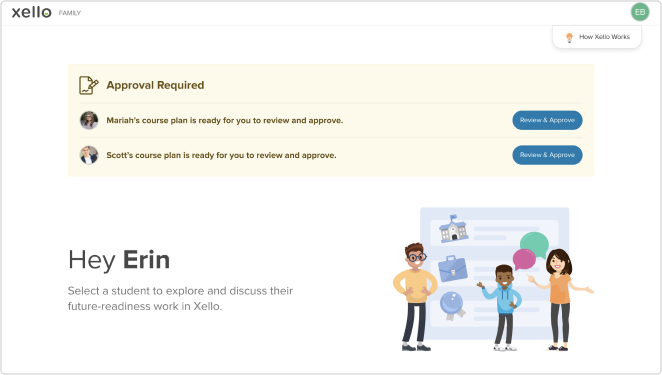 Let's hear it for course approvals! Soon, Xello will allow educators to:
Send course plans to parents and guardians through Family Portal, and receive digital approval within minutes.
Request, collect, and track parental approval for course plans so they can best support their students' future plans.
What's more, our Family Portal also supports educators in engaging parents better with students' planning and in meeting state mandate obligations.
—
Join our Xello Family webinar on May 11th to learn more about the benefits and how-tos of involving parents and guardians in their child's future plans.
Looking Ahead: What's Next?
Here's some next steps for incorporating these latest releases into your future readiness plans:
Join our End of Year Wrap Up for Program Coordinators on May 9th. Come to reflect on your own practices and hear how other districts are setting CCR priorities.
Use Xello add-ons. Add the Common App integration, Enhanced Data Integration services, and Family Portal for the best Xello experience.
Contact your Success Manager. They'd be happy to book a start-of-the-year conversation to review your CCR curriculum's strengths and weaknesses, and get your program in order for the new school year.
Watch Now: Learn more about Xello tools and update your training plans with these resources: