Xello Communities
Empower students to have authentic conversations about college with peers and college ambassadors right from their Xello dashboard.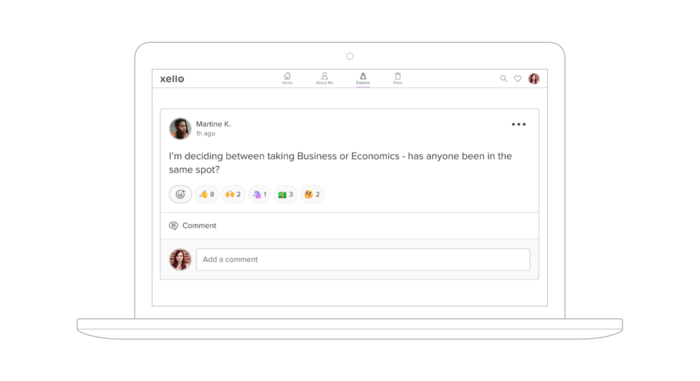 Connect
Authentic conversations
Students can safely connect with college ambassadors – current students who have recently gone through the application process – and other prospective students so they can learn about a given college from their peers.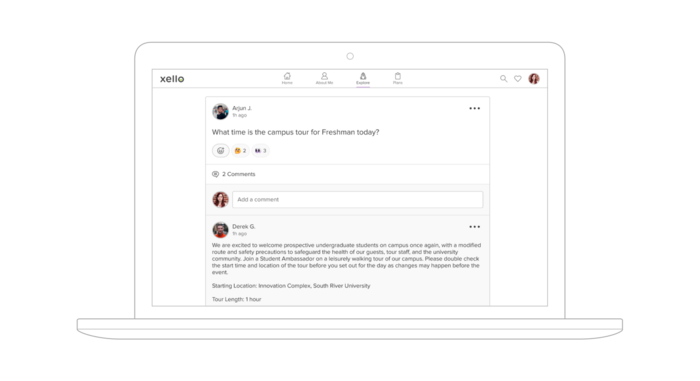 Engage
Engage and empower students
Empower students to take control of their college search journey and make informed decisions about their future. They'll be connected to a supportive community of peers, receive relevant updates and insights, and have access to the information that's most important to them.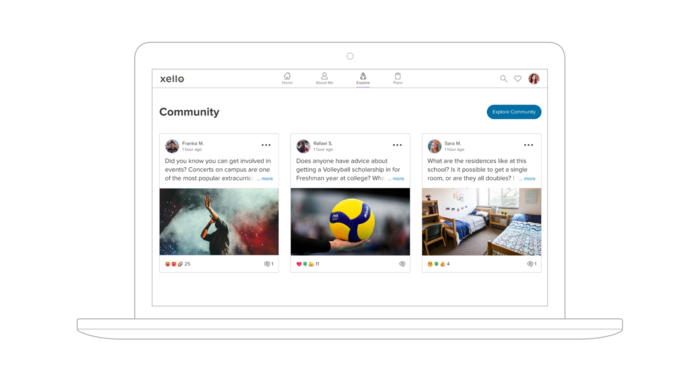 Simplify
One easy tool
Having conversations about college within Xello gives students one easily accessible tool to manage their college-related activities and reduces the number of tools they need to use.
FAQs about Xello Communities
Who will students engage with on Xello Communities?
Students can use Xello Communities to engage with other prospective students and ambassadors from partnered colleges. College ambassadors work in a college's admissions office and help plan and participate in recruiting activities, including supporting prospective students.
What student information will colleges have access to?
Students can choose to share their Xello profile with any of our partnered colleges. By doing so, they can demonstrate their intent and gain access to personalized insights from the college. If they choose to share, the college will receive the student's name, grade, school, city, state, email, saved majors, and saved careers. This information helps the college identify best-fit students, support student needs and interests, and help them succeed. Students can opt-out of sharing their profile at any time with the click of a button.
Is Xello Communities safe?
We have a number of moderation tools and safeguards in place to ensure that Xello Communities is a safe and positive environment for students, including: content moderation by college staff and ambassadors, an automatic filter that flags and removes inappropriate language, and the ability for educators and students to report inappropriate content, which will then automatically be hidden until it's reviewed.
Does Xello Communities cost extra?
No! Xello Communities is included in your Xello subscription.