What Is Blended Learning and Why Does It Matter?
Heather Hudson
|
January 25, 2022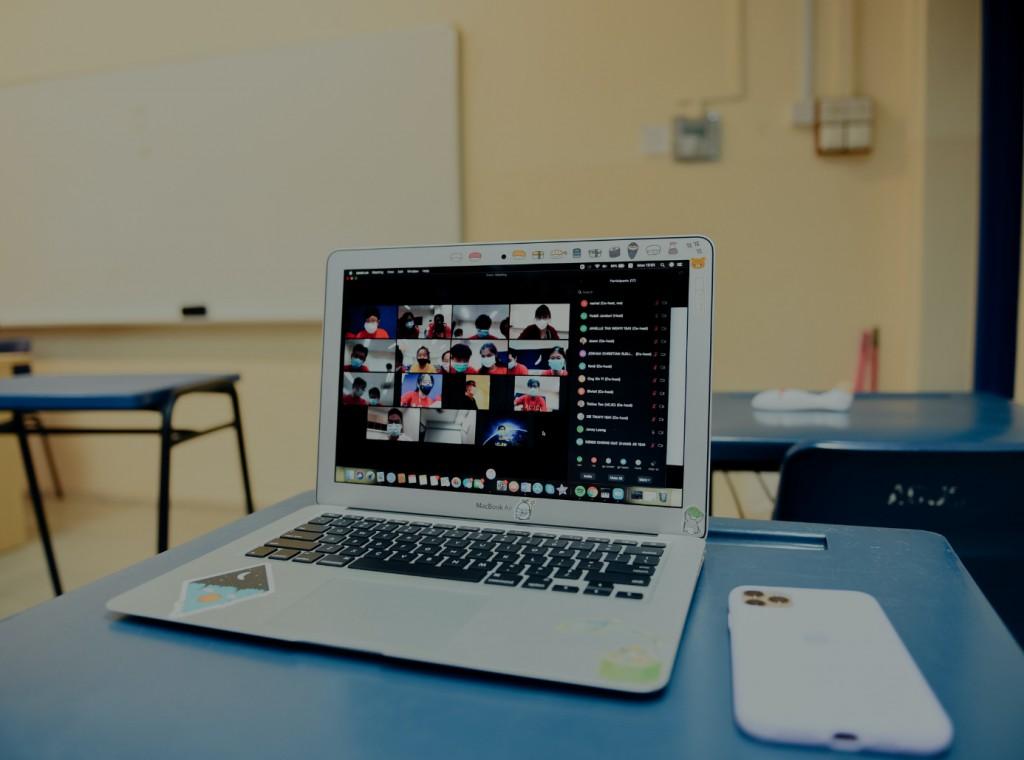 Find out how blended learning can enhance the education experience for students and educators.
It was cold and dark when I stepped into the bedroom of my 15-year-old son to rouse him for school on a recent morning. He'd been sniffling and sneezing before he went to bed and I wondered how he was feeling. One look at this bleary-eyed face and it was clear: he was sick with the same bad cold his dad had recently gotten over.
"I'll call the school and tell them you'll be absent," I told him.
"No, it's okay. I'll message my teacher and Zoom into my first class later," he said.
"Is that even possible?" I asked.
"Yeah, there's always a Zoom link now."
I guess I hadn't been paying attention to the way technology had evolved in my son's school. Sure, most of his 9th grade the year before had been conducted through online learning due to the pandemic, but I thought we'd put that behind us when we chose in-person learning this year.
A closer look at his profile on Edsby, the technology platform his school uses, confirmed that students could indeed ask for a Zoom link to attend class virtually if they were sick or couldn't attend class for another reason.
Later that morning, I stopped by his bedroom to see how he was doing and found him propped up in bed with a tissue box beside him and his computer on his lap. When I peeked at his screen, I could see math equations being solved in real time.
"I didn't reach my teacher in time for him to set up the Zoom link, but I can see everything he's doing in OneNote," he told me.
My confused look prompted him to continue.
"My math teacher puts our worksheets on a program called OneNote and projects it from his tablet in the classroom as he's teaching the lesson. He also posts a link in Edsby for us to review later if we want. But I'm watching him do it live."
I knew the pandemic lockdowns had pushed our education system—and our educators—to technologically evolve further than ever before. What I didn't know was that a system that combines online educational materials with regular classroom strategies remains a vital tool as most students have returned to school.
It's all part of an innovative blended learning model. And we may only be getting started.
What is Blended Learning?
Blended learning programs can be defined as the integration of online learning and in-person components in education for a more personalized learning experience for students. Like in my son's 10th grade math classroom, online and in-person activities and materials are used to complement each other. In his case, technology was used as a back-up system and a supplement to in-class student learning. But blended learning can also be built into a course.
According to the University of Waterloo's Centre for Teaching Excellence, blended learning can include a wide variety of models, including discussions, laboratory work, field trips, group work, online activities, and lectures.
"Blended courses do not follow a single formula. Some use the online environment for content or lecture delivery and the classroom for active learning opportunities (sometimes known as the flipped classroom), whereas others use the face-to-face time for lectures and the online environment for discussions, assessments, or other learning activities. Some use a combination of these two approaches," they write.
"Evidence suggests that students learn more effectively and have a higher satisfaction when courses are blended, as compared to online or traditional, face-to-face courses."
Although blended learning has been in use for years in some schools, the pandemic dramatically accelerated online learning and made blended learning models considerably more widespread. In a March 2021 EdWeek Research Center survey, 88 per cent of educators said their ability to use tech improved during the 2020-2021 school year. And a July 2021 survey found that 30 per cent of educators were betting that the use of technology would "increase a lot" in the 2021-22 school year.
The Benefits of a Blended Learning Model
Advocates of blended learning say there are multiple benefits for employing it as part of overall instructional strategy. Students can:
Review recorded lessons at home to increase their understanding of a concept or prepare for tests
Be provided with new and potentially more engaging ways to learn course content, i.e. interactive presentations or instructional videos
Access the foundations of the class curriculum online and devote more time in class on active, hands-on learning
Reduce learning loss when they have to be away from class
Access course materials when and where they want—and work at their own pace
Learn using a variety of technology methods, including Kahoot, YouTube or Khan Academy videos, and even TikTok, if their teachers are open to new and enterprising ways to teach
How Educators Can Integrate Blended Learning into Their Classrooms
In the 2021-22 school year and beyond, educators will continue to be challenged to at least be aware of blended learning models, if not integrate some of its methodology. As the pandemic continues to be a factor in many districts, in-person learning may transition to hybrid learning, making blended learning programs mandatory.
Best practices for blended learning include:
Considering learning outcomes when designing instructional methods and using a variety of blended learning strategies to engage students and impart knowledge
Communicating to students from the outset how online and in-person elements will be integrated throughout the class, including whether you'll deploy a flipped classroom approach
Ensuring that online and in-person activities complement and build off of one another rather than exist as two separate entities
Taking into consideration the technology requirements when designing blended learning methods, activities, and assessments to ensure equitable access to course material
Researching the vast array of digital educational tools available and selecting pre-existing interactive games, videos, or other interactive features that speak to your curriculum and your students
Ensuring that students know how to contact you in-person and online so their classroom experience is seamless
Creating a sense of community for students in-person and online so they may interact and collaborate wherever they are
District leaders and principals may need to offer some professional development training to educators to help them integrate blending learning models into their classrooms.
While blended learning is not a new concept, it is an increasingly important strategy for engaging and exciting student learning—and providing a vital back-up system for whatever the world throws at us.