Reignite Student Engagement in a Post-Pandemic World
Kate McKenzie
|
May 10, 2022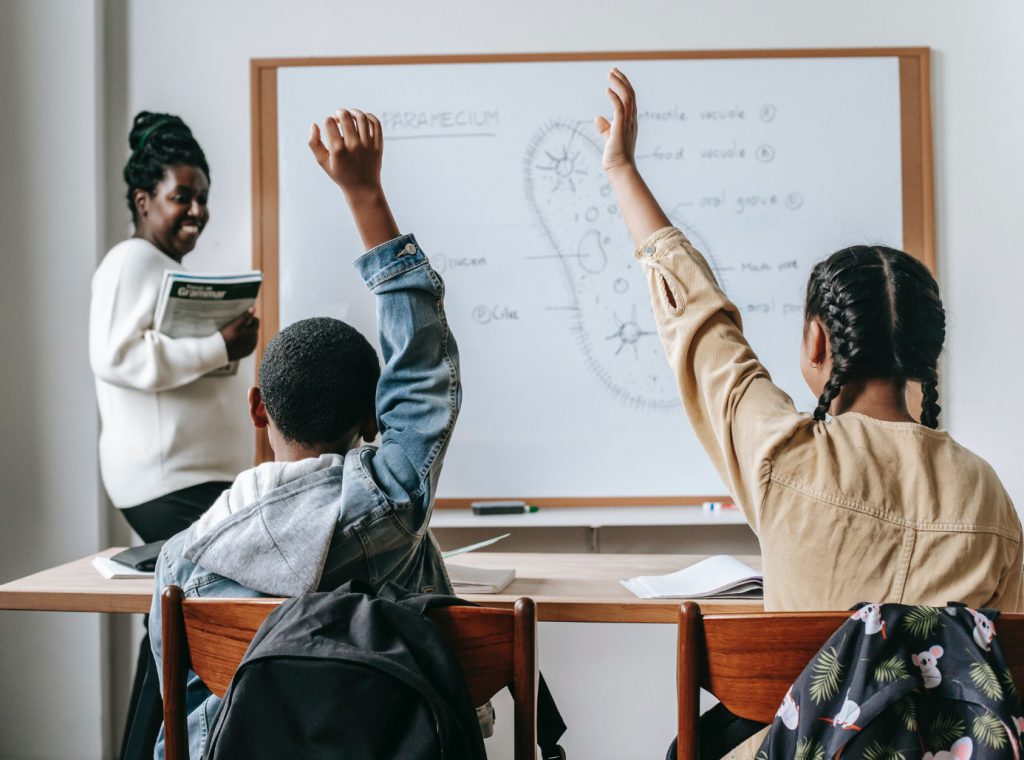 Now that we're turning a corner with the pandemic and expecting more "normal" school years to come, how can educators maintain student engagement—and even spark new joy in students?
In 2020, a few themes emerged in the education world. Districts were rightfully focused on making sure students were logging into virtual classes, connecting with teachers and peers, and accessing digital, financial, and food supports.
Many educators got a wake up call to what home was really like for their students. Numerous online seminars were held about equity, inclusion, and being culturally responsive. Teachers actively tried to not burn out, since many were required to also care for their own children all day.
Now, as we consider what's to come, we must not only check the box of getting students back into the building, but also reignite their passion for learning. How can educators spark student engagement? And what can district leads and building administrators do to create an environment that fosters that growth mindset?
The last couple of school years we felt helpless; let's make sure this year students—and teachers—feel empowered in the classroom. Below are three practical ways educators at all levels can help students feel inspired and engaged.
Districts Can Prioritize Student Wellbeing
In a recent school board meeting, my superintendent stated, "There is no more important aspect in teaching than knowing your students and meeting their needs." Those needs have ebbed and flowed from academic struggles to social-emotional ones. Districts have done a great job so far providing free meals for families, purchasing computers or hotspots to lessen the digital divide, and promoting virtual software to keep students on track.
Educators have also been discussing the pandemic's effect on students' mental health for a while now, recognizing that limited exposure to trusted adults, support of positive peers, and structured days has led to increased anxiety and unhealthy coping strategies.
Luckily, districts can take a proactive approach to students' emotional (as well as academic) needs by implementing the three following tactics:
1. Schedule Helpful Professional Development Days
The keyword here is helpful. Yes, teachers need the "welcome back, let's get excited" first meeting of the school year. But, since this is a critical time and also one where all teachers can collaborate together, the agenda should be intentional and constructive.
There's no reason to reinvent the wheel; many educational agencies are putting together resources for professional developments, such as this resilient reopening presentation by Panorama. Keeping students' wellbeing at the focus will help all beginning-of-the-year initiatives fall into place.
2. Prioritize Trauma-Informed Teaching Methods
Depending on your district, trauma-informed teaching methods may be standard practice. But for many, teaching with a trauma-informed lens is something new and potentially overwhelming.
It's clear that society isn't the same as it was last March of 2020. In fact, studies show that the pandemic caused significant trauma, and as we know, the effects of trauma can appear weeks, months, or years later.
Responding to trauma is not only helpful for students' healing, but also teaches them that their classroom, school, and district are safe places. As educators help rebuild and satisfy kids' hierarchy of needs, students will be more invested into school and their learning.
What to know more about trauma-informed teaching? Check out the following articles:
3. Utilize Curricula and Programs That Support Social-Emotional Learning
Social emotional learning (SEL) doesn't just mean school counselor lessons. While it'd be nice if every school in America could adhere to the suggested 250:1 student to counselor ratio, especially since there is a growing mental health crisis in schools, many districts simply can't afford the extra personnel. Therefore, to teach SEL on a Tier I level so that every student is receiving instruction, this skills-based programming must be integrated into every single classroom.
One way district leaders can ensure SEL is taught with fidelity and alignment is by utilizing curricula and software that teaches and helps kids practice these soft skills. Most districts run a yearly inventory of all educational software, curricula, and textbooks for licensure and budget reasons. What if districts also reviewed resources through the lens of SEL? If multiple programs adhered to social-emotional standards, then students would have multiple years of practice, and in turn, be more resilient, empathetic, and forward-thinking.
Buildings Can Revisit Their MTSS Framework
If we want students to take risks and practice a growth mindset, they should feel supported every step of the way. That academic and behavioral support rests in MTSS, and buildings need to revisit and potentially strengthen certain areas before the school year begins.
A quick reminder: Multi-Tiered System of Supports (MTSS) is a framework that helps educators provide academic and behavioral strategies for students with various needs. MTSS grew out of the integration of two other intervention-based frameworks, Response to Intervention (RtI) and Positive Behavioral Interventions & Supports (PBIS).
The key components of MTSS include:
1. Universal screening of all students early in the school year. These data points are measured early in the year and revisited roughly every six weeks to ensure student growth.
2. Tiers of interventions that can be amplified in response to levels of need. All students receive Tier I instruction, but more support may be added if necessary. The chosen Tier II and III supports depend on the size or organization of the school.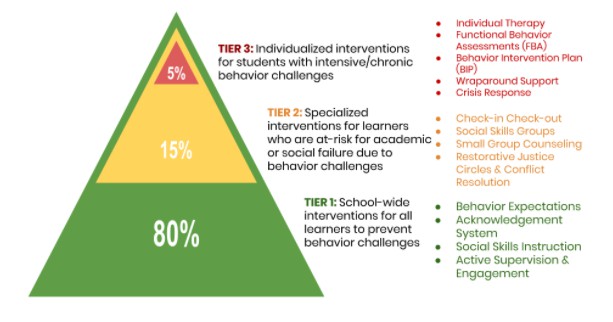 3. Ongoing data collection and continual assessment. Ideally, data should be analyzed by a building leadership team to move students in and out of appropriate supports.
4. Schoolwide approach to expectations and supports. All staff should be onboarded, understand, and promote the school's MTSS model.
5. Parent involvement: Schools benefit when they partner with outside stakeholders to improve students' educational experiences. Buildings should also involve families when it comes to school expectations, communication strategies, and data analysis.
While the minutiae of your MTSS model may be a trial and error process throughout the year, there are some proactive steps you can take to strengthen student supports before the school year begins:
Rework the staff, student, and family handbooks to include the explanation of tiered levels of support and schoolwide expectations.
Align communications so that all students entering the same intervention receive the same communication home.
Review the decision tree of problem solving for teachers. If a child is struggling with behaviors, jumping to a Behavior Intervention Plan isn't the answer. Ensuring staff knows the appropriate steps to advocate for a student helps streamline efforts.
Recruit a few parent representatives for your PBIS committee. Keep in mind that these shouldn't just include the stereotypical PTA mom, but also marginalized voices as well.
How does a strong MTSS framework relate to student engagement? When students have a strong relationship with their teachers—they feel physically and psychologically safe, are encouraged to do their best (even if they make mistakes), and receive personalized feedback and supports — they are more likely to be engaged with schoolwork. All of these listed protocols are a part of the MTSS model, and clearly lead to the learning and growth of all students.
Teachers Can Introduce Project-Based Learning
Even if the foundations of student engagement are present at the district and building levels, teachers still have to worry about it in the classroom, especially since educational fatigue may set in quickly. While there wasn't a standard time requirement for the virtual school day, students spent an average of 90 minutes receiving direct instruction each day. In some districts, such as Los Angeles Unified, up to 25% of students did not log into remote learning. And when teachers think of having students for seven hours a day, up to 1,000 hours a school year….well, that student engagement piece can seem daunting.
Enter project-based learning. Project-based learning isn't a new concept by any means. PBL Works describes it as a teaching method in which students gain knowledge and skills by working for an extended period of time to investigate and respond to an authentic, engaging, and complex question, problem, or challenge.
Why is now the perfect time to have kids actively engage in real-world problems? Because, as we've seen across news and social media platforms, there has been a rise in social and political interest among students. Stephen Duncombe, a professor of media and culture at New York University, speaks to the involvement of young people: "The advent and rise of the internet has democratized the ability to speak. This means it has also given even young people — who are sometimes too young to vote — a way to make their voices heard."
Teachers can tap into student passions by empowering kids to be real-world problem-solvers. Some ideas include:
Watching kid TED Talks to inspire and promote critical thinking.
Starting a school garden (flowers or vegetables) where students are in charge of planning, planting, and care.
Researching struggles within an industry and allowing students to invent solutions.
Partnering with community businesses or local parks to aid with improvement plans.
Adding students to school subcommittees for data collection and action-planning.
Student engagement is just one piece of the education puzzle. Throughout the summer, Xello will continue to update resources and share content to help districts, administrators, and classroom teachers have the strongest year yet.