How to Apply Social-Emotional Learning Early in the Classroom
Heather Hudson
|
October 8, 2019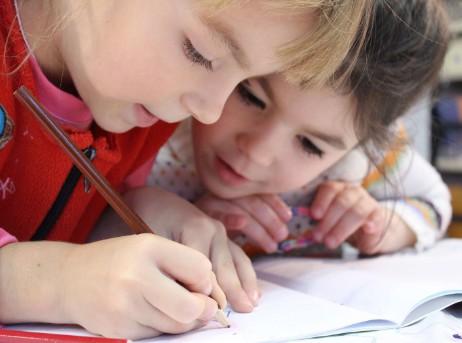 Ella Minnow Children's Bookstore in Toronto, Ont. is home to thousands of carefully curated books—including classic fables, animal stories, wildly funny tales, and lots of non-fiction to stimulate young minds. But one of the largest growing categories at the store is social-emotional learning (SEL).
Bookseller Dawn Clarkson says she's seen a proliferation of books focused on feelings coming from publishers, particularly in picture books for the K-2 set. Some are educational texts, but many contain SEL in a story format that kids, parents, librarians, and teachers alike eat up.
"When we're at book fairs in schools and libraries, these are the ones people are picking up: Anything about feelings, growth mindset and social-emotional learning. People gravitate to it," she says.
"Educators and parents are realizing that social-emotional learning is so important, and it's not officially on the curriculum. Everybody does math, reading, and science, but kids are challenged by softer skills which are proving to be as important as academics."



A number of studies verify Clarkson's observations. One of the most compelling comes from a joint report from the Collaborative for Academic, Social and Emotional Learning (CASEL), the University of Illinois at Chicago, Loyola University, and the University of British Columbia.
In a review of 82 SEL programs accessed by 97,406 K-12 students, researchers found that the skills students learned protected them against future challenges like emotional distress and drug use. The impacts also included:
6 percent improvement in high school graduation rates
11 percent improvement in college attendance and degree completion
Decreased likelihood of dropping out of high school, having an STI diagnosis, being arrested or having a clinical mental disorder
Educators and parents are recognizing that children need to learn "soft skills" to help them relate to their peers, solve problems, collaborate, and communicate. Often, the younger this learning begins, the more profound the effects.
What Is Social-Emotional Learning Anyway?
According to CASEL, SEL is "the process through which children and adults understand and manage emotions, set and achieve positive goals, feel and show empathy for others, establish and maintain positive relationships and make responsible decisions."
Their five core SEL competencies are:
Self-awareness: Know your strengths and limitations, with a well-grounded sense of confidence, optimism, and a 'growth mindset'
Self-management: Effectively manage stress, control impulses, and motivate yourself to set and achieve goals
Social awareness: Understand the perspectives of others and empathize with them, including those from diverse backgrounds and cultures
Relationship skills: Communicate clearly, listen well, cooperate with others, resist inappropriate social pressure, negotiate conflict constructively, and seek and offer help when needed
Responsible decision-making: Make constructive choices about personal behavior and social interactions based on ethical standards, safety, and social norms.

How Some Districts Are Incorporating SEL into Their Curriculum
SEL is being recognized as an integral part of learning for students K-12. Counsellors, teachers and even librarians are getting creative about integrating SEL into the curriculum.
An Ethos, an App, and Design-Thinking
In an EdWeb webinar titled Integrating Social-Emotional Learning into Your Instructional Programs, Michelle Luhtala, Library Department Chair at New Canaan High School in Connecticut, say her district weaves SEL holistically throughout all classes with "micro-lessons". Empathy, communication, problem solving, and social awareness can be part of any and every lesson.
A resource she values is the Mood Meter app, which helps students identify their feelings to help develop self-awareness. It also cues students with suggestions on how to change uncomfortable thinking.
Another favorite SEL tool is a popular concept in schools and business: Design thinking. "SEL is related to design thinking because it asks the person to understand how other people are feeling. It encourages one conversation at a time, staying focused on a topic, encouraging wild ideas, deferring judgment, building on the ideas of others, and failing often in order to succeed sooner," says Luhtala.
Many of the educators in her district use resources and concepts from the Luma Institute and IDEO to incorporate human-centered thinking into their instruction.
Inquiry-Based Learning and SEL
The intersection of SEL and inquiry-based learning is where a lot of districts are finding success. Jennifer McCarty Plucker, Director of Professional Learning at Mackin Educational Resources, says in the Edweb webinar that she found profound opportunities for SEL during her previous role as a high school English teacher.
Instead of doing a traditional novel study of Romeo and Juliet, she put questions to her students about the concepts that arise in the text.
"We asked things like what role fate plays in love stories. This allowed students to read other books and bring in their own experiences," says McCarty Plucker.
She says implementing inquiry-based projects in K-12 throughout her district resulted in SEL skills developing authentically. Students are encouraged to call upon empathy, clear communication, problem solving, and collaborative thinking as they form and answer questions for themselves.
She also acknowledges the increasing interest educators have for SEL. "It's why we had 1,200 registrants for the [SEL] webinar. People are looking for how we might include it because we also have standards to teach and want to make sure we're reaching our goals but also including SEL," she says.
How a Lemonade Stand Hit Standards and Accomplished SEL
McCarthy Pucker partnered with Nikki Allen, an integration and computer science teacher, and Shaasia Jackson, a kindergarten teacher, both at Propel Braddock Hills Elementary School near Pittsburgh to create an inquiry-based project that could explore SEL.
Jackson wanted a project that showed kids how to make a contribution but also weave in the curriculum needs to study how-to books, writing, tallying, and acids and bases for science.
McCarthy Pucker sent the Propel Braddock Hills team books for kindergartners that hit all the right notes and the inquiry question was formed: How can ordinary kids use everyday talents to make an extraordinary contribution?
The students eagerly took to the idea of helping other kids. They went through all the steps to dream up, strategize and collaborate on the many elements and ultimately came up with a plan to give away free lemonade to sick kids at a local hospital and solicit donations to sponsor a Make a Wish Foundation project.
Jackson was careful to include all the curriculum standards and ensured SEL skills were also part of the project. "When you nurture a culture of respect and kindness in the classroom, it can enhance learning. [The students] learned that you can make a difference with your voice, brainstorm ideas and listen to one another. Even when some students didn't agree, they were able to listen and talk and respect each other," says Jackson.
"They realized that by listening and showing kindness, it made their individual voices stronger and the unified class stronger. These are SEL skills they can take with them throughout their lives."
EdTech Provides SEL Skill-Building and Lessons
Are you looking for an innovative way to integrate SEL learning in your classroom? A college and career readiness program can go a long way in helping busy educators and counselors include SEL into their curriculum. Look for software that does the teaching for you and includes lessons on self-awareness, communication, problem-solving, and more.
Interactive features like learning style and personality quizzes help students tap into their strengths and interests. These investigative activities encourage rating, reflection, and critical thinking about what interests and matters to them. Through this process, students gain the confidence and skills to make smart, informed choices.


Conclusion
As students increasingly struggle with mental health, socioeconomic, ESL, social, and other challenges, SEL skills are emerging as an effective solution.
When children as young as kindergarten have self-awareness of their feelings, can interact with others from a place of empathy, and possess the skills to solve problems and call upon resilience, they're in a better position to succeed, in and outside the classroom.
These are just some of the reasons SEL books are flying off the shelves at bookstores like Ella Minnow.