Keeping Students Engaged Outside the Classroom: Using Xello on Mobile
Xello Team
|
March 18, 2020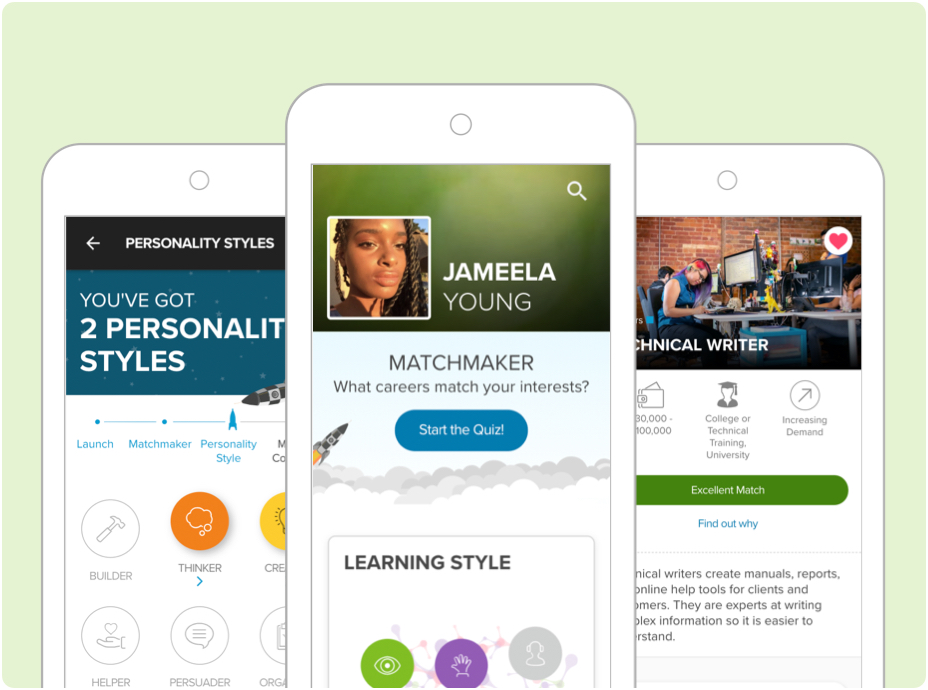 Xello's mobile experience offers students the flexibility to extend their learning beyond the classroom and explore their future options with ease.
Note: Xello works on mobile devices via a mobile web browser. For the mobile version of Xello, students simply need to use a mobile browser (Safari and Chrome). You can find details of full browser requirements here. Details of what they can do in the mobile web version (if they don't access the full desktop version) are here. Here's another helpful article on how to access the full version of Xello 6-12 on a mobile device.  
As most schools and districts have switched to online classes to keep their students and staff home-bound, the reality is that many low-income households don't have access to devices such as laptops and computers or even a secure internet connection.
As a result, they are more likely to rely on smartphones for internet access and online learning. Xello's mobile experience offers students the flexibility to extend their learning beyond the classroom and explore their future options with ease.
Curiosity, inspiration, and learning can happen at any time and any place. You may find that many students engage with your teaching more while home-bound.
Since different students engage differently, it only makes sense to provide them the opportunity to learn across multiple devices. With Xello's mobile experience we offer just that—flexibility for students to extend their learning beyond the classroom and explore their future options anywhere and anytime.

Future Readiness in the Palm of Their Hand
Students live on their phones, and so does Xello. Designed as a companion for Xello's desktop and tablet experience, Xello's mobile browser experience for iPhone and Android is just for students. The program is ready and waiting for them whenever and wherever inspiration or curiosity strikes—making learning more timely, shareable and relevant.
With the ability to build self-knowledge and explore options from anywhere, conversations about the future are no longer relegated to the classroom or a desktop computer. Even if they're stuck at home, through Xello for mobile, students have insights into who they are and their future possibilities, quite literally, in their back pocket.
Get Your Students Tapped into Their Future!
Students can easily access Xello on their phones by opening a browser (Safari and/or Chrome) and going to xello.world. They'll be able to gain access quickly and easily—with a familiar sign-in screen and SSO capabilities they're used to from the desktop experience.
When students access Xello on their phones, they can expect the same immersive experience they're used to in the classroom, only reimagined for a friendlier mobile experience.
Streamlined with simplified navigation, students can easily toggle between About Me, Explore and Saved options. With a simple tap on the screen, students can complete interest, personality style, and learning style assessments—easily scrolling to see their results. Students can also add their skills, interests, and experiences to paint a more complete picture of what makes them unique.
When curiosity about a possible career or academic pathway strikes, students can quickly explore their options in newly formatted profiles that present the most important information upfront, making the experience easier to consume on the small screen. And of course, if students want to dig deeper, additional information is accessible with just a tap.
Keeping students happily engaged in learning outside the classroom relies on ensuring the work they've done on their phone saves and syncs seamlessly to their Xello account. Xello uses the latest security protocol to guarantee information is accurate, automatically updated, and safely stored. No matter where students are working, they can easily switch between devices and pick up right where they left off.
Want to take a peek at the student mobile experience? It's easy! Just sign into Xello from your browser on your phone, click the drop down to access your student demo accounts and you'll be able to see what your students see on their phones using a mobile browser. And of course, if your students encounter any issues using Xello, no matter what device, please get in touch with us at help@xello.world and we'll walk you through it.