How to Use Xello Lessons Both In & Outside the Classroom
Xello Team
|
March 18, 2020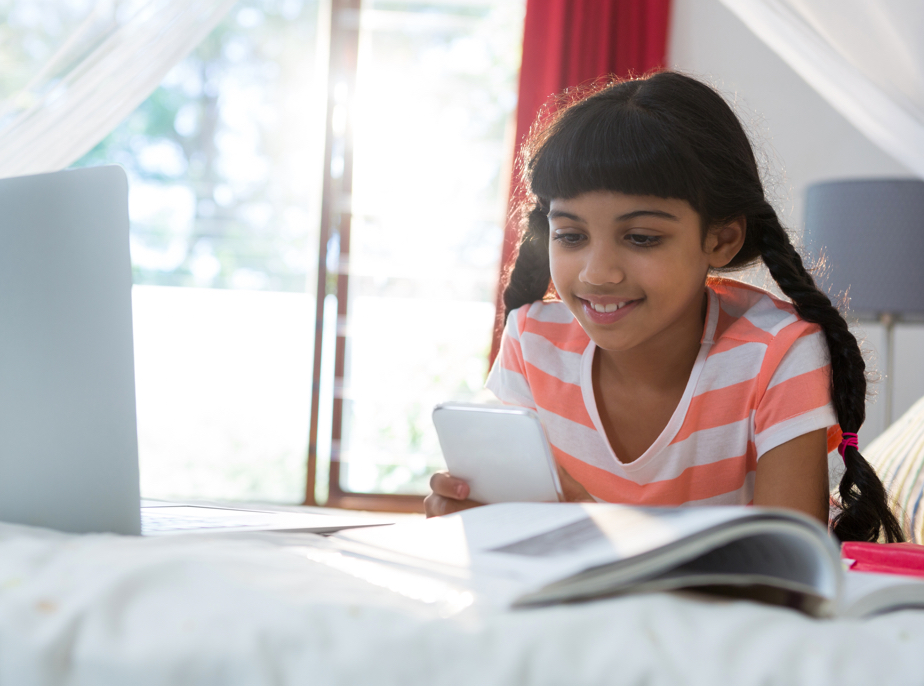 If you're an educator, who now has to come up with engaging lesson plans to teach your students remotely, we can help. With Xello lessons, you get ready-made lessons that will prepare your students to become future ready without leaving the comfort of their homes.
As most schools have switched to online learning to keep students and staff home during uncertain times, educators and district leads are now faced with a new challenge. How to keep students engaged with online learning? How can you ensure students are doing the work needed to meet state mandates and ILP requirements?
Here's how you can use Xello lessons to ensure students continue to gain critical future ready skills while home-bound.
Lessons that Teach Students the Skills Needed for Lifelong Success
There's no denying it, today students need more than core subjects like Math and English to prepare them for the realities of the working world. Now, heading into today's competitive job landscape, students need to be equipped with soft skills and greater self-knowledge that will help them connect the dots between who they are and how that impacts their future goals.
Students also then need to develop the confidence and practical skills to succeed, whether that's providing them with insights for a smoother transition to high school, better understanding of how to interview for a job, or navigating a work environment.
We understand that for an educator, that's a lot to try and cram into a student's academic career!
So, to make it easier to infuse future readiness and 21st century skills into your curriculum, Xello developed lessons — ready-made, fully integrated, digital activities that prepare students to navigate critical life stages, build their confidence, and ensure they develop the skills to succeed in the real-world.
Ready-made Lessons Guide Students to Develop Essential Skills
Xello lessons
are designed to teach grade-specific skills and knowledge, so students gain the right capabilities at the right times. Researched and designed in-house by experienced content specialists, Xello lessons are highly engaging, employing a variety of interactive modules, such as drag-and-drop, multiple choice, and free-form personal reflection.
Lessons are also uniquely designed to
make each students' learning personalized
and relevant. Students' saved careers, experiences, and interests are woven directly into lesson content and outcomes, which helps them connect what they're learning to their future aspirations. By providing real context, students gain the insights they need to make more confident decisions about their future.
This personalized experience is all possible without having to create a unique plan for every student. With Xello's lessons, it happens automatically, which means as an educator you can rest easy knowing you're helping your students build 21st century skills without spending hours creating lesson plans at home or tracking completion in a separate system.
Increase Student Engagement with Learning that's Fun & Personal
Once allocated to their grade, students will see lessons in the "Activities to Complete" section of their Xello dashboard.
Many of the lessons have
prerequisite activities
in Xello that students must complete before they can start the lesson. For example, in order to start the Learning Styles lesson, students must have completed the Learning Styles assessment and have at least 3 saved careers.
This information is used to personalize the lessons so that students can engage with and reflect on content that is meaningful to them, such as their own assessment results and saved career and education interests.
Since Xello lessons involve personal reflection and critical thinking, they take between 20-40 minutes to complete. But, lessons have been designed to accommodate the busy schedules of students — a progress bar shows them how far along they are in a lesson and students can stop-and-start a lesson without losing their work.
And to ensure every student has the opportunity to build the soft skills they need to succeed, missed lessons can be completed in future grades.
Create and Track Your Own Custom Lessons in Xello
Because your district or school has curriculum needs that may go beyond what's available in Xello's pre-made lessons, you also have the ability to create your own custom lessons.
With custom lessons in Xello you have the flexibility to fully tailor your curriculum based on the learning requirements of each grade. Maybe you need students to complete a capstone project, or do a deeper dive into financial planning, or build social-emotional skills — however you use Xello's custom lessons, you'll have peace-of-mind knowing your students are developing the knowledge and skills they need to succeed, with everything in one centralized spot.
With the ability to create and easily add custom lessons in Xello everything is viewable, trackable and organized in a single spot for both students and educators. Just like Xello's ready-made lessons, your students will find their custom created lessons in the
Activities to Complete
section of their dashboard, putting all required lessons front-and-center for them. You'll be able to view the details of a custom lesson, review student submissions against those lessons, and report on student lesson completion right alongside all other lessons in Xello.
To get started creating custom lessons, select Features in the left menu of your educator portal, and navigate into Lessons. In the top right corner of the Lessons screen, click on the Create Lesson button. From the new lesson you'll be promoted to provide:
Grade level
Lesson title
Lesson description
Supporting files as attachments
Since custom lessons are created and managed by Xello administrators, not all Xello accounts will have the Create Lesson option on the Lessons screen.
Start Using Lessons Virtually in a Matter of Minutes
How lessons are used can flex and adjust based on what makes sense for your school and students — roll them out in a dedicated careers class, leverage them as part of your counseling practice, or encourage your students to complete lessons in a self-paced manner.
To find Xello lessons sign into your educator portal, click
Features
in the left navigation, then click
Lessons
to see each grade-specific lesson.
The lesson reporting provided in Xello can also be used to demonstrate whether students are building the skills and knowledge required for a state or local mandate.
Easily Track and Report on Student Success
Ready-made reports in Xello provide you with instant insights into student lesson progress, helping you keep track of those who may require additional support.
Lesson reports can be accessed through your educator portal in a couple of clicks: on the left menu, click
Reports
and then select
Lesson Progress
. The lesson reports you'll find include:
Lesson Completion by Student

 

— Select a grade to see exactly which lessons each student has or has not completed.
Lesson Completion by Grade

 

— This report shows a grade-by-grade overview of student progress. Select a grade to view the available lessons, then click a lesson name to see how much progress students have made in the lesson.
Lesson Completion by Lesson

 

— This report provides student counts based on the status for each lesson. Click a lesson name to see the list of students and their completion status for the lesson.
In today's ever-changing world, new opportunities and challenges arise every day that require skillful navigation. Now, more than ever, it is critical to prepare students with a solid foundation for success in school, work, and life as early as possible.
With Xello's engaging, personalized lessons students develop the 21st-century skills necessary to think creatively, problem solve, collaborate, and make decisions about their future with confidence. They'll be set-up to thrive in the real-world, and you'll have easy to use, out of the box curriculum that genuinely excites and engages.
Interested in exploring Xello lessons? If you're already a Xello client, simply sign in to login.xello.world to see lessons in action. If you're not using Xello and would like to learn more about lessons, feel free to contact us help@xello.world.