Texas Districts: Introducing Career, College, and Military Readiness (CCMR) Tracking in Xello
Jen Roberts
|
June 21, 2022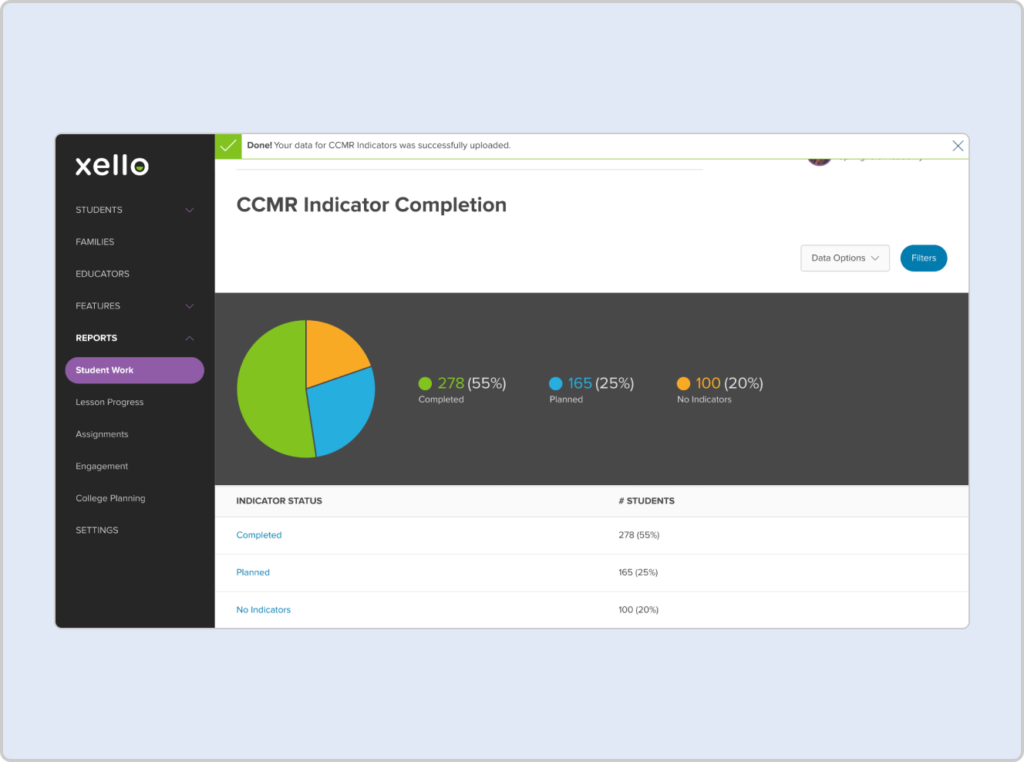 Learn about Xello's all-new CCMR tracking tools built for districts across Texas.
Xello's new CCMR tracking tools provide all educators, counselors, and other administrators an easy, centralized view into their students' career, college, and military readiness indicators. Our CCMR tools also allow students to view their CCMR status in their Xello dashboard, so that they can take ownership over their progress.
Each year, high schools in Texas are required to report on their graduates' college, career, or military readiness. Students' readiness greatly affects a district's accountability rating, the amount of funding it receives and, most importantly, a student's future success. So it's critical that all educators and decision-makers can monitor student progress so that they can provide effective support.
CCMR will provide educators visibility and will give students access to the information they need to take charge of their learning and their future.
How It Works
Xello's CCMR tools will provide educators, counselors, students, and administrators with access to important data that is usually tucked away on excel sheets. This way, having a holistic picture of a student's future readiness better helps educators prepare their students for life after graduation.
Xello's CCMR tools teach students about the indicators and let them mark those they plan to complete. They will be able to monitor their progress and take the necessary steps needed to work towards completing the indicators.
Educators will be able to:
Bulk upload student CCMR indicator data or update completion status right from Xello
Monitor progress and understand where to allocate support with reports that can be viewed by completion status or indicator
How to Get Started
CCMR tools will be automatically available for all Texas educators and students. You can learn more by checking out our webinar, emailing help@xello.world, or by calling 1-800-965-8541.