At many school districts there are a variety of additional specializations students can work towards. For instance, Specialist High Skills Majors in Ontario, endorsements in Texas, and A-G requirements in California to name just a few.
So, while students are selecting courses to meet their diploma requirements, how can they also select courses towards a specialized area of study and easily track their progress?
Students select courses and track their progress toward specializations with ease
To simplify course selection for students and educators, Xello now has Specializations — an enhanced functionality of Xello's Course Planner tool that enables students to build course plans that meet both diploma and specialization requirements all in one place.
The Specializations feature allows students to see their progress toward their specialization requirements in real-time. As students add and remove courses from their plan, the sophisticated algorithm behind Xello's Course Planner simultaneously updates the student's progress toward their diploma and specializations. This allows students to explore their course configuration options, so they end up with the best possible plan that helps them meet both their graduation and specialization requirements.
And, since the Course Planner algorithm updates a student's progress toward all specializations offered at the school in real-time, students get to see how course selections qualify them to graduate with a specialization they may not even have known about. While working independently, students can see how aligning their passions to their course plans allows them graduate with special recognition — a shift in students that can lead to increased engagement and achievement.
With an easier way for students to plan courses and track their progress, you'll have more students on-track to graduate. Plus, with the new Specialization Completion Report, you'll get real-time insight into students who need additional support, saving you from having to sort through student records to see who's on-track.
Get students on-track with straightforward course planning
Selecting courses that meet both diploma and specialization requirements is now a seamless experience.
In Xello's 
Course Planner
, when students select a specialization it shows them their progress towards achieving it within their course plan. This is also where they'll see the requirements of the specialization and pick courses to fulfil them.
Here's an example of how this experience would come to life for a student:
Let's say Jill was assigned to the Arts & Culture specialization at her school. In her course planning section of her Xello account, Jill sees an overview of the remaining credits required for her high school diploma and the credits she still needs for the Arts & Culture specialization, as well as the other specializations offered at her school.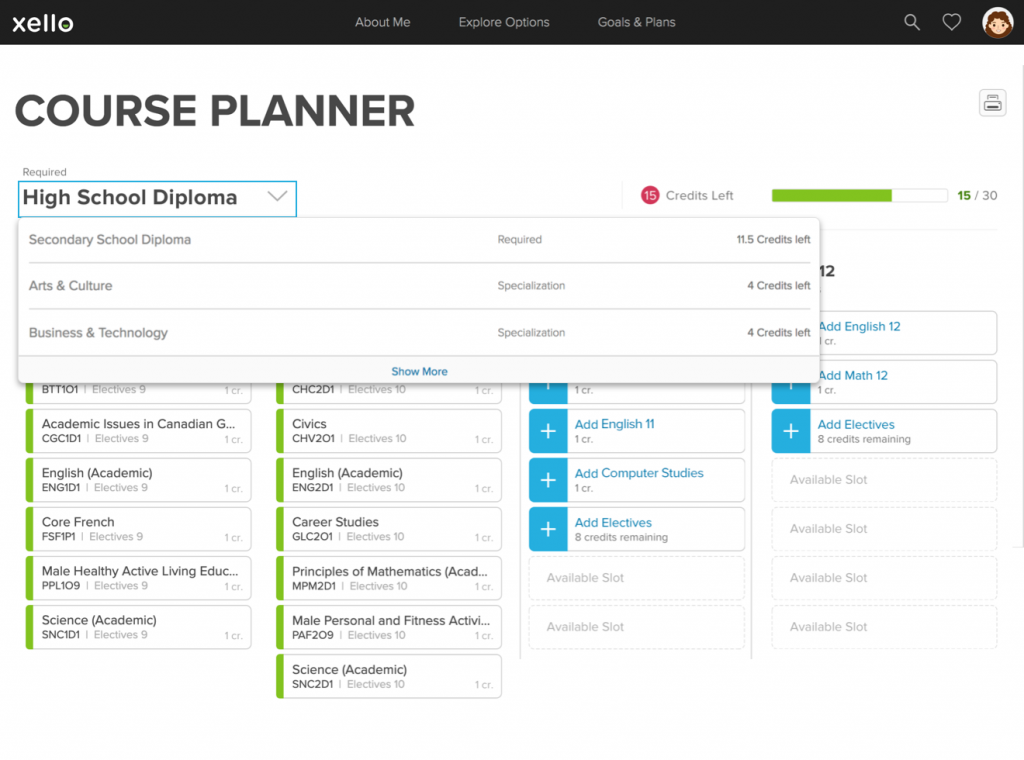 While creating her four-year course plan, Jill sees there are 4 remaining credits required for her to graduate with the Arts & Culture specialization. When Jill clicks into the specialization she can see the specific requirements and can click through to select courses that will satisfy each — 1 credit in English and 4 credits in Arts.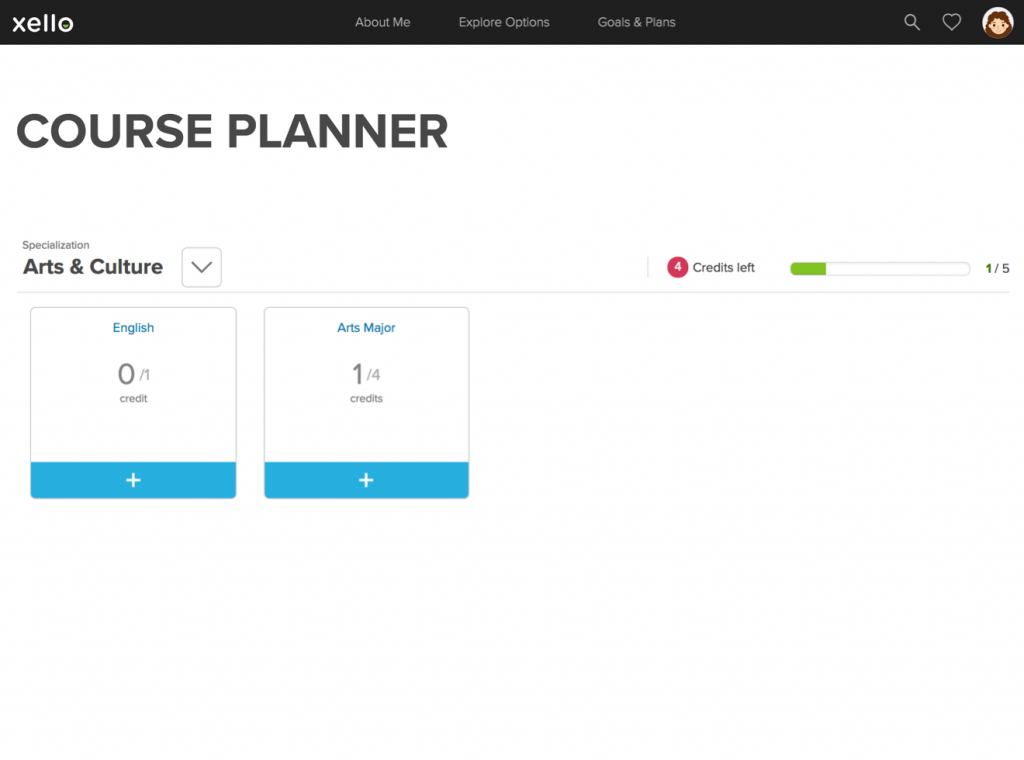 When Jill clicks the Arts credits tile, she's presented with the Arts courses at her school that count towards her specialization. She can then add them directly to her course plan.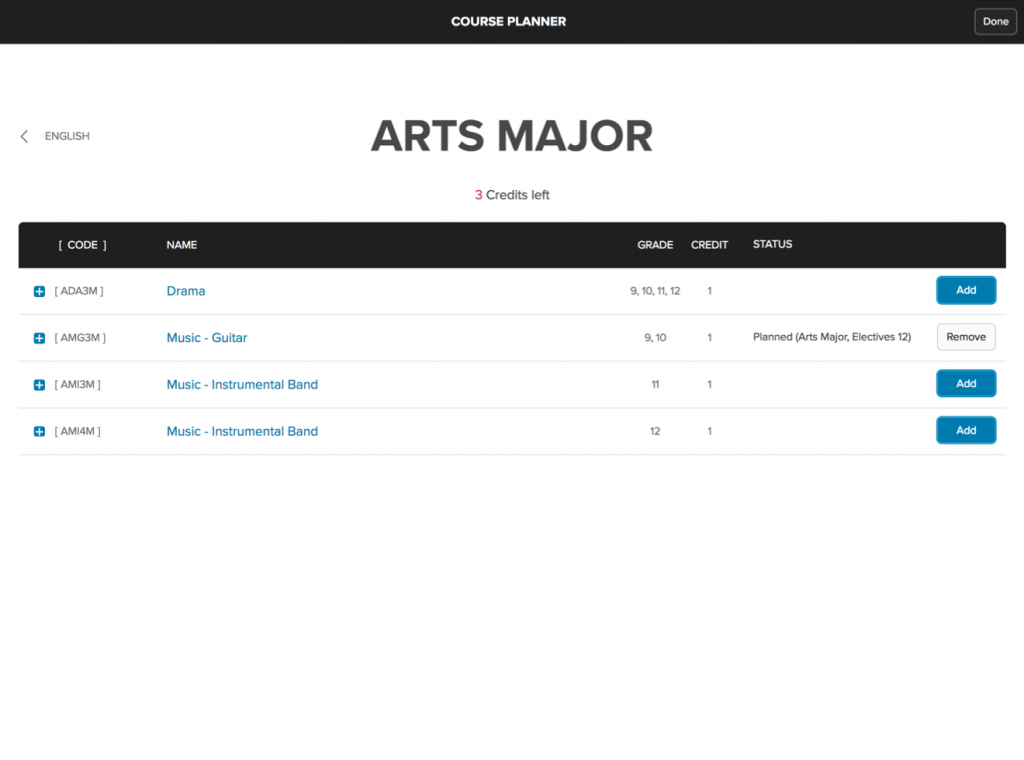 Get started using Specializations with your students
It takes a bit of set up to get Specializations working seamlessly for your students. Check with your administrator to see if Course Planning is configured for your school and if specialization tracking is included.
Once Specializations are enabled, the next step is to assign them to students. To add a specialization to a student's course plan:
Navigate to the Course Planner section of the student's profile
Click Settings in the top right corner of the plan
Select the desired specialization from the drop down list and click Save
If you want to assign a specialization to a number of students, you can use the mass assign feature:
Navigate to Courses & Diplomas under Features in your left menu
Click the tile Student Course Plans
Select the students you'd like to assign a specialization
Open the Assign Diploma menu option and click Assign Specialization
Choose a specialization from the drop down list to and click Assign
If you're interested in setting up 
Course Planner
 with 
Specializations
 at your school district, feel free to contact us 
help@xello.world
.