Helping Students Navigate the Journey to Paying for College
Monica Biesok
|
September 28, 2021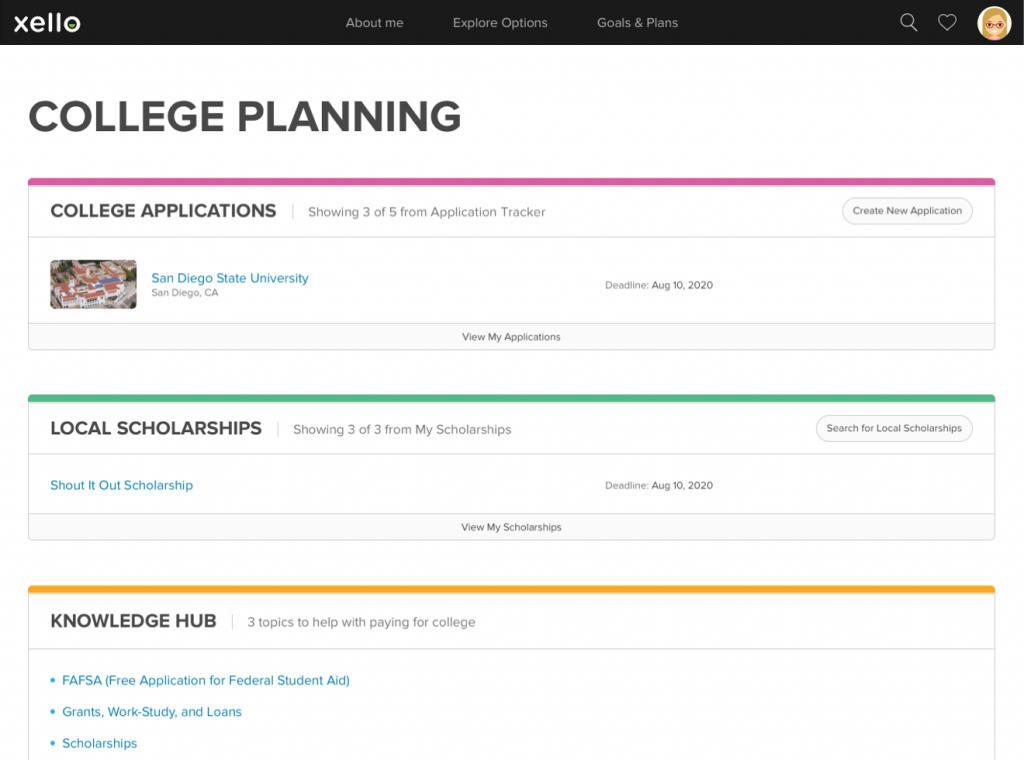 Whether students are looking to learn more about the FAFSA application process, searching for local scholarships that match their profile, or requesting a transcript, they can find it all in one central spot in Xello.
Supporting students and their families through the college applications process can be overwhelming and time-consuming for everyone involved. While most students are somewhat prepared for the research and deadlines that come with applying to college, paying for college is often an after-thought.
This lack of foresight and planning can make paying for college feel stressful and out of reach, resulting in students foregoing their top college choices in favour of those within a lower price range. While the decision to opt for a more affordable college may be the right one, it's important that students and their families understand and consider all financial aid opportunities available to them before making these difficult decisions.
With many parents having little insight into the range of financial aid options available and the steps required to qualify, students often rely heavily on the guidance and resources offered by their schools and counselors to navigate this complex yet essential step in the college-going journey.
Empowering students and parents to make sound decisions with simple tools and resources
For most counselors, securing one-on-one time with every Senior to discuss college plans can be difficult. To help combat heavy caseloads and time constraints, it's essential that schools find ways to empower their students and parents to make well-informed decisions by arming them with easily accessible tools and resources that support college planning.
Xello's suite of College Planning tools includes a college application tracker that help students stay organized and on track with application requirements and deadlines – and now with the addition of a knowledge hub and local scholarships database, students have easy access to resources that will help them get a head start on building their plans to pay for college.
One central hub to access to all college-related tools and financial aid resources 
Whether students are looking to learn more about the FAFSA application process, searching for local scholarships that match their profile, or requesting a transcript for their school application – they can find it all in one central spot in Xello's College Planning hub.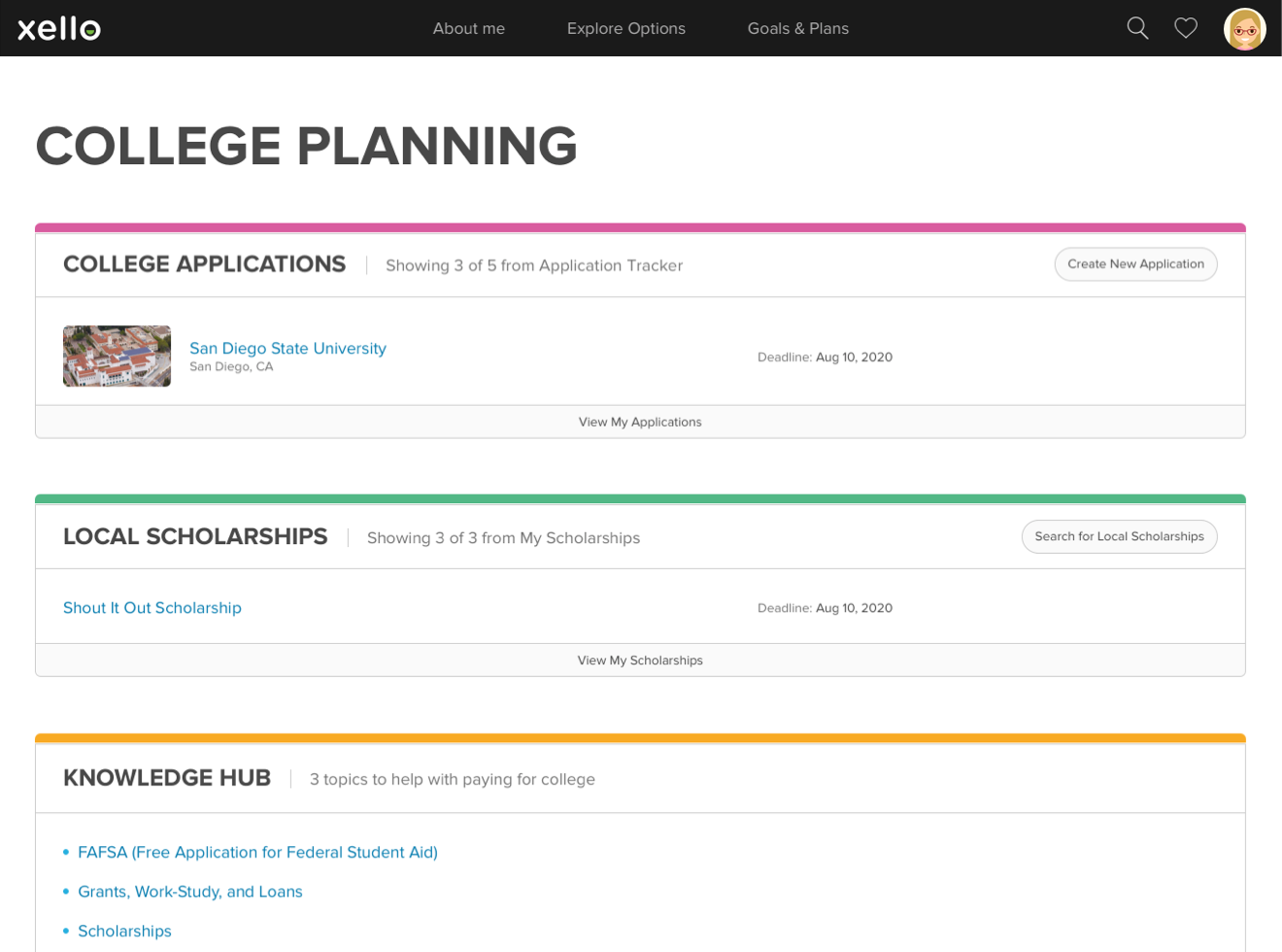 To learn more about their options when it comes to paying for college, students can click directly into a topic of interest under the Knowledge Hub. The resources housed here are written by a team of content experts, vetted by educators, and designed to help instill confidence by serving content that's short, straightforward, and easy for students to digest and understand.
Topics currently include FAFSA, Scholarships, and Grants, Loans, and Work-Study Programs – with more topics coming soon.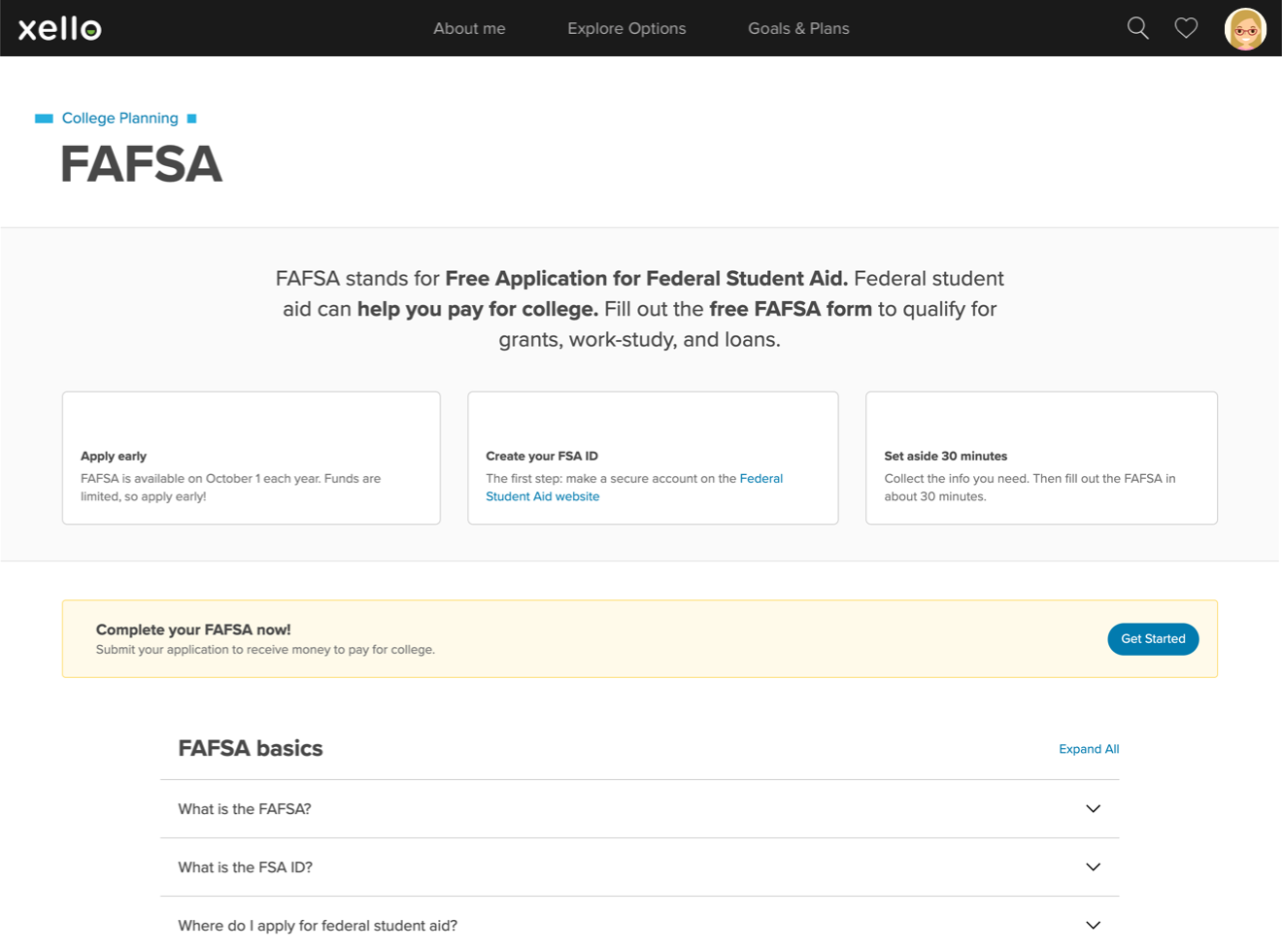 Using the Local Scholarships tool, students can quickly find relevant and valuable local scholarships that they can apply to. Moving these scholarships out of your filing cabinet or spreadsheet and into Xello improves accessibility and enables students to search for scholarships by name or keyword, and to sort the list by deadline or award amount.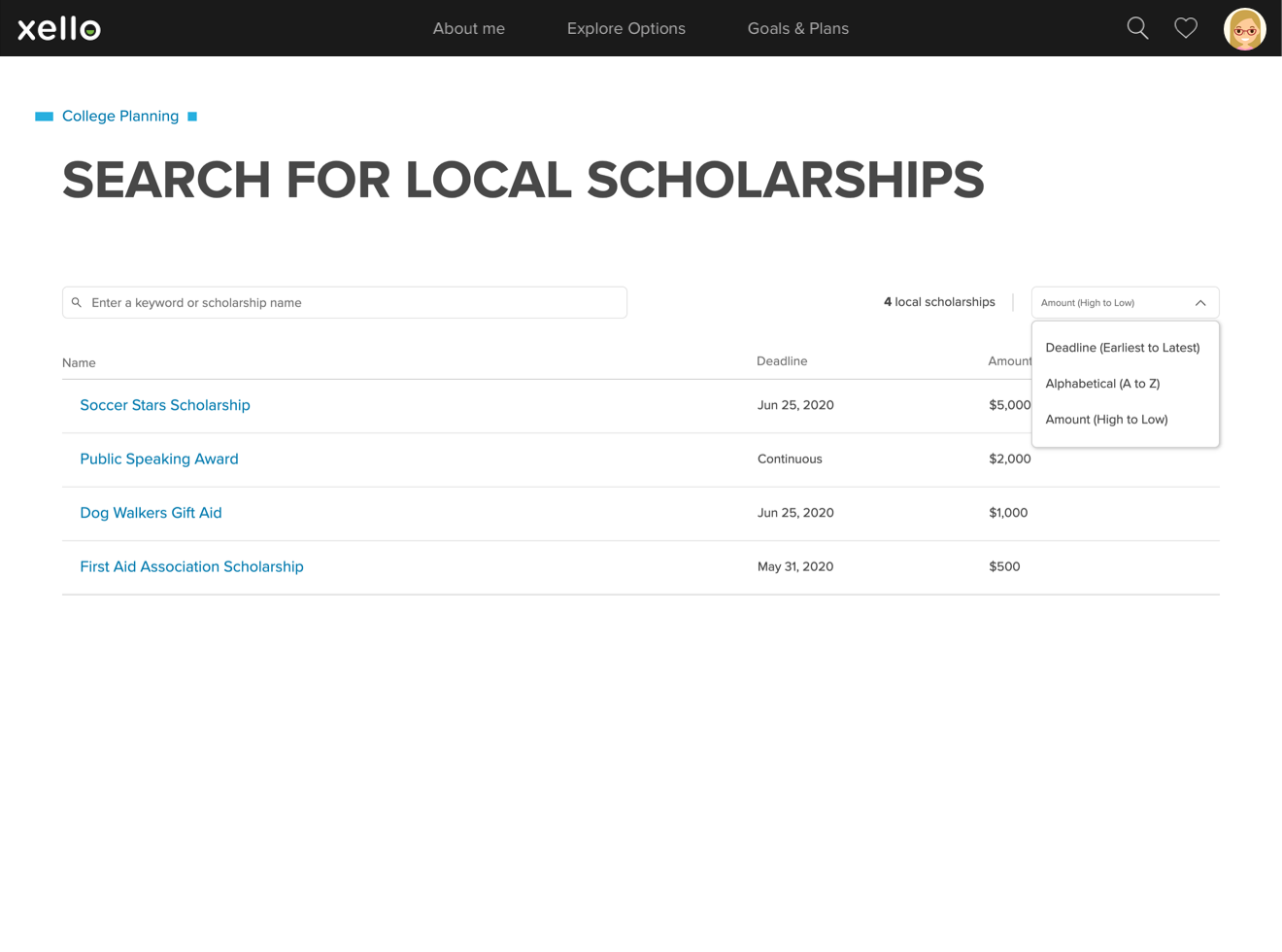 When a student clicks into a local scholarship, they'll land on the scholarship details page where they can review the scholarship details to see if it's a good match. If they're interested in the scholarship, they can add it to their personal shortlist by clicking the Add button.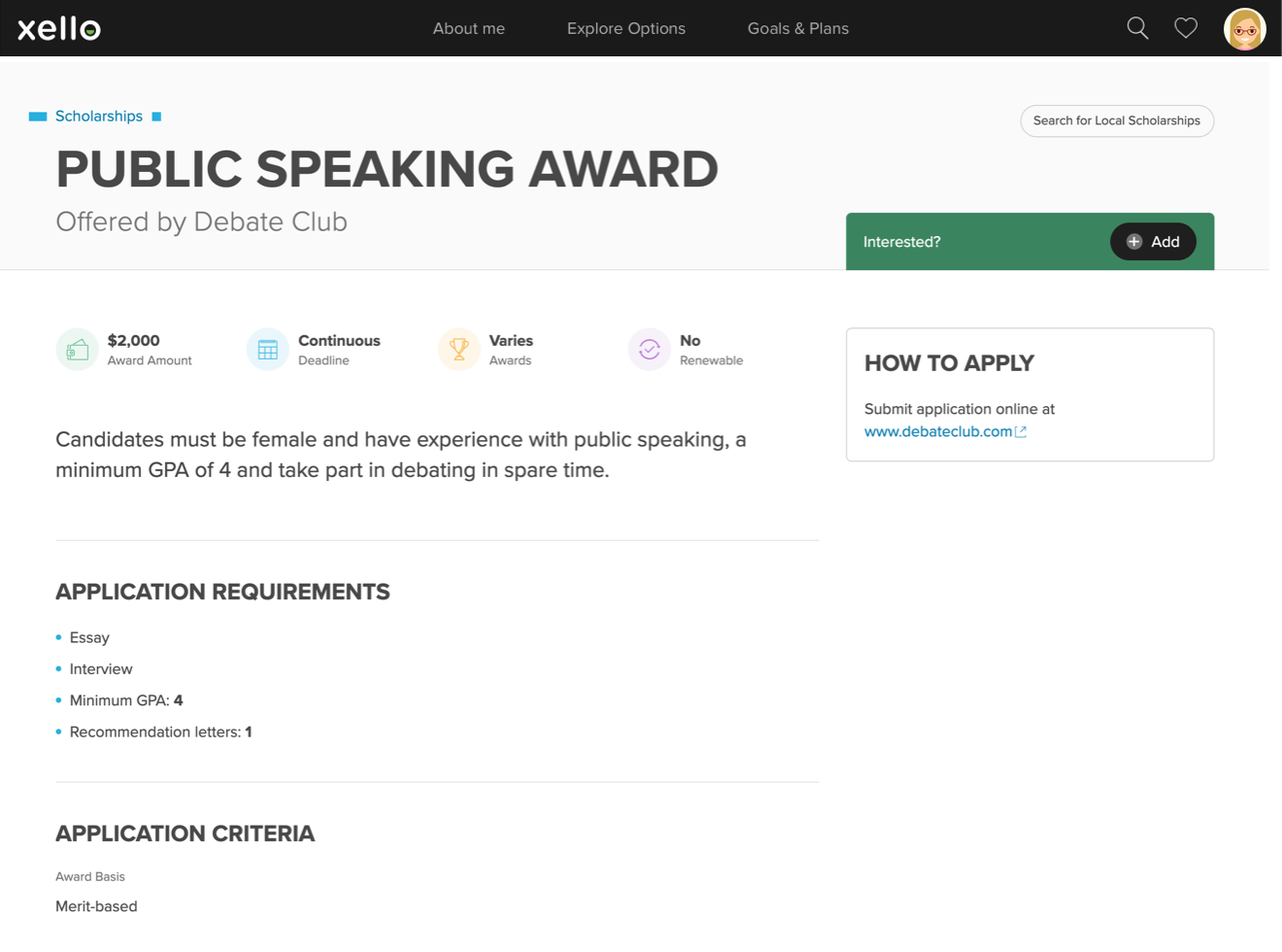 Once added to their shortlist, students can keep track of their progress by updating the status of their scholarships to indicate that they've applied and if they've won.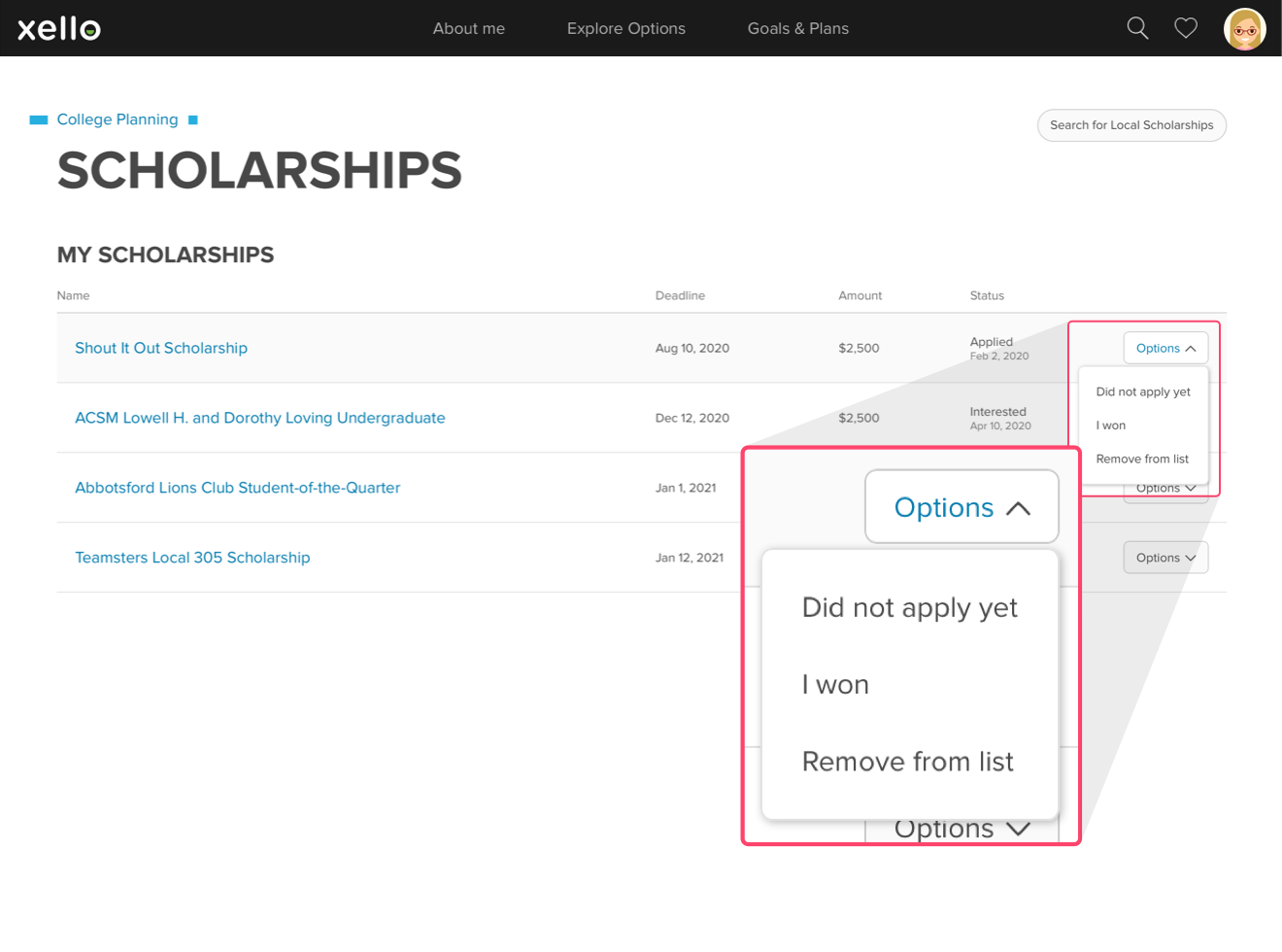 To enable students to view and search local scholarships, you will simply add and publish the scholarship pages from within the College Planning section of your educator tools. Clicking on the Local Scholarships tile, you will land on the local scholarship listing page where you can add and manage all your local scholarships.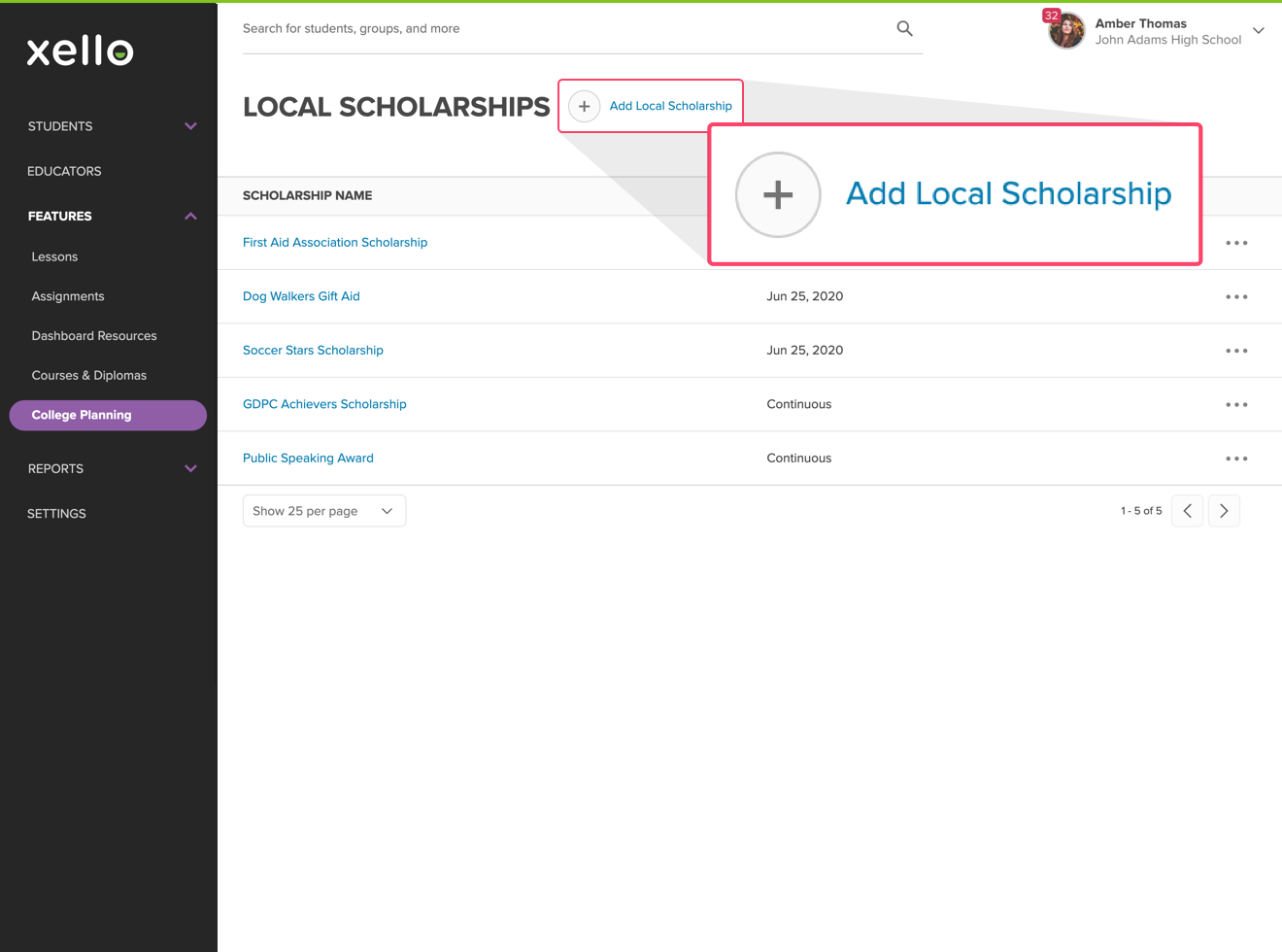 Adding a new scholarship is as simple as filling in a set of standard fields in a template and hitting Publish. Scholarship fields include details such as the award amount, deadline, number of awards, application requirements, criteria, and contact details. Once a scholarship is published, it will be visible and searchable by your students.
Once your local scholarships have been added and students begin interacting with them, you can run reports to track how many students are interested in the various scholarships, how many have applied, and how many have won.
When clicking into one of the scholarships, you'll see the list of students that have added the scholarship to their shortlist, the date it was added, and the current self-reported status (not applied yet, applied or won). You can then export the data, create a group from the applications, and send the group a message.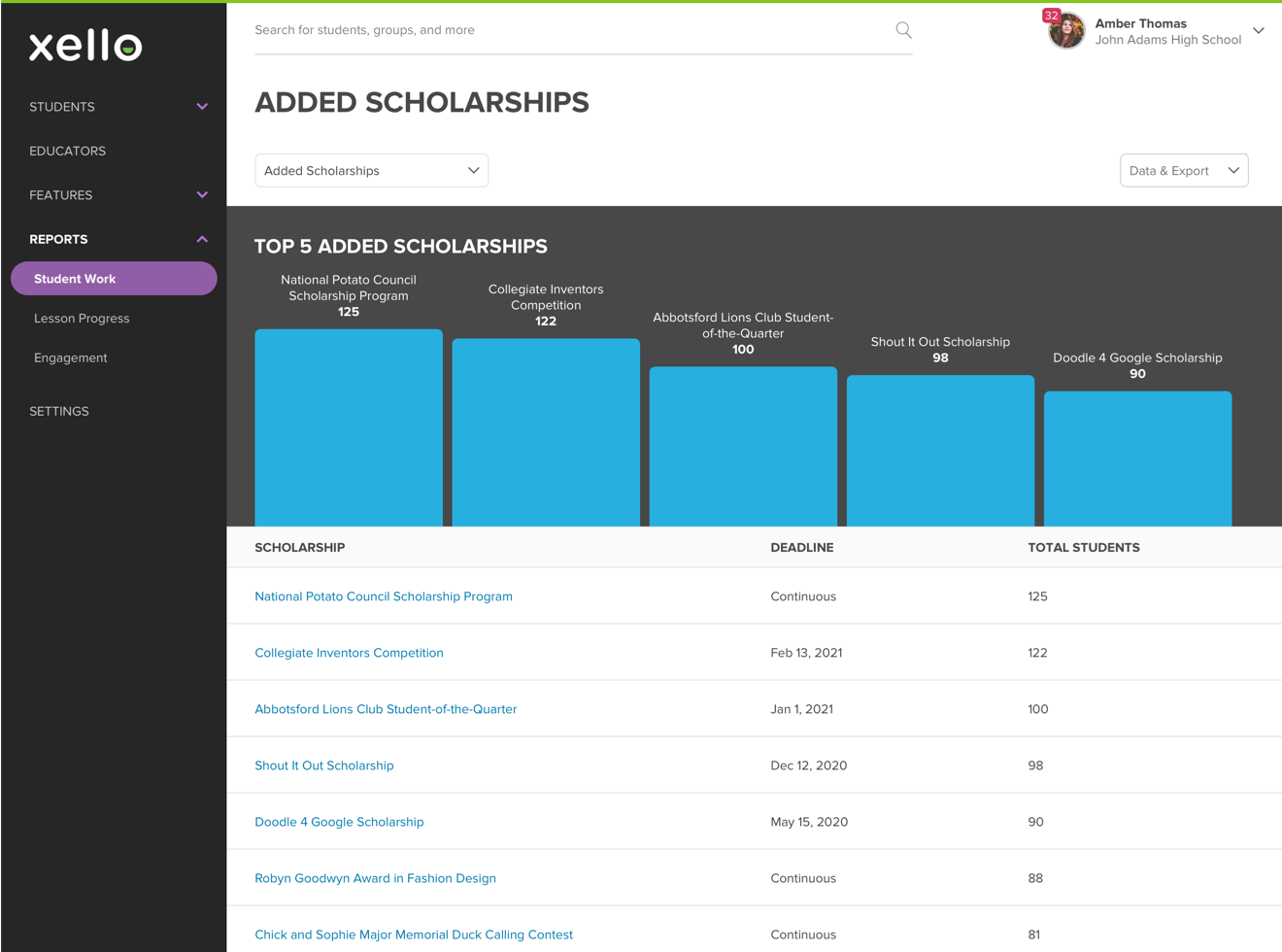 Ready to move your Local Scholarships into Xello?
Access the new Local Scholarships tile from your educator tools by clicking on Features in your left-hand navigation and then on College Planning. For step-by-step guidance on how to add and manage local scholarships, check out this Xello Support article.
Want to learn more about Xello's suite of College Planning tools?
Watch this refresher on how Xello can help you empower your US college-bound students to submit their Free Application for Federal Student Aid (FAFSA) form or visit Xello Support for more educator materials.