Monitor Your Graduates' College Success Rates with NSC StudentTracker Integration in Xello
Monica Biesok
|
August 14, 2019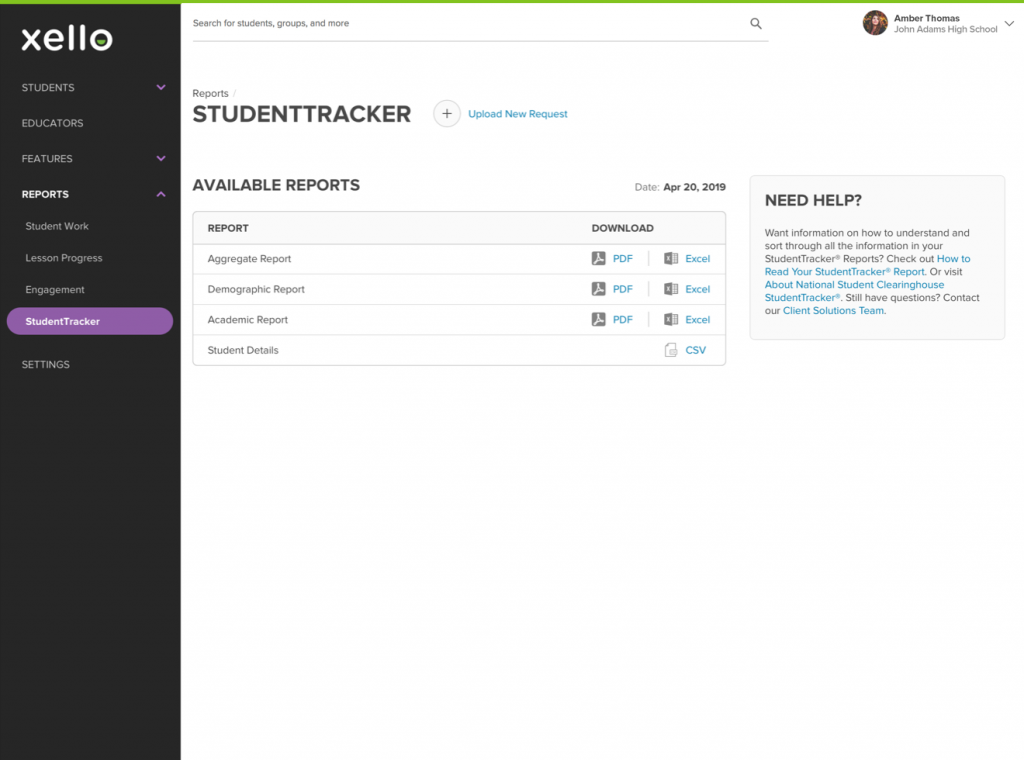 This new integration in Xello gives district leads a quick and easy way to track their graduates' college success rates—enabling leaders to assess the impact of their schools' college and career readiness initiatives.
Schools and educators are constantly evolving their approach to college and career readiness initiatives. Whether the driver behind the change is a new state mandate or is simply re-defining what college and career readiness means for today's students, change is constant.
But how do you track the impact of programs and initiatives if they're constantly evolving? And how do you ensure all your students are being set up for success when they leave highschool and step into the real world?
The National Student Clearinghouse helps to answer these questions by marrying the data of your recently graduated students with data collected from post-secondary institutions all over the U.S. The reports then enable you to monitor and report on trends in college going rates and degree completion rates for up to 8 years of graduating classes.
With the launch of the NSC StudentTracker Integration in Xello, you can now get access to reliable, real-time information on college enrollments (both in and out-of-state), student dropouts, transfers, and degree completions – all easily accessible in your Xello account. Learn more about our partnership with NSC on our partner page.
---
Gain Insight into Key Focus Areas to Improve Your Graduates' Outcomes
Having a good understanding of your high school graduates' educational outcomes is essential to developing programs that deliver a positive impact. StudentTracker reports enable you to track your district's college enrollment and persistence rates over time so you can see how your schools' past programs and initiatives have contributed to students' post-graduation performance.
The more data you provide, the more insightful your reports become. With the option to include demographic and academic student data, you can dig even deeper by identifying differences in college success rates across gender, race/ethnicity, economic disadvantage, by high school assessment results, as well as other factors.
With StudentTracker reports in Xello, you'll gain access to the data you need to make well-informed decisions, develop programs that are designed to meet the needs of your unique student population and have the ability to assess the effectiveness of those programs over time.
---
How Does the NSC StudentTracker Integration in Xello Work?
The NSC StudentTracker Integration in Xello makes notoriously difficult and time-consuming tasks like uploading your student data and accessing your reports a breeze.
1. Step-by-step instructions and automated file validation speed up the request submission process by providing you with instant feedback on your student data file so you know exactly where you went wrong and how to fix it.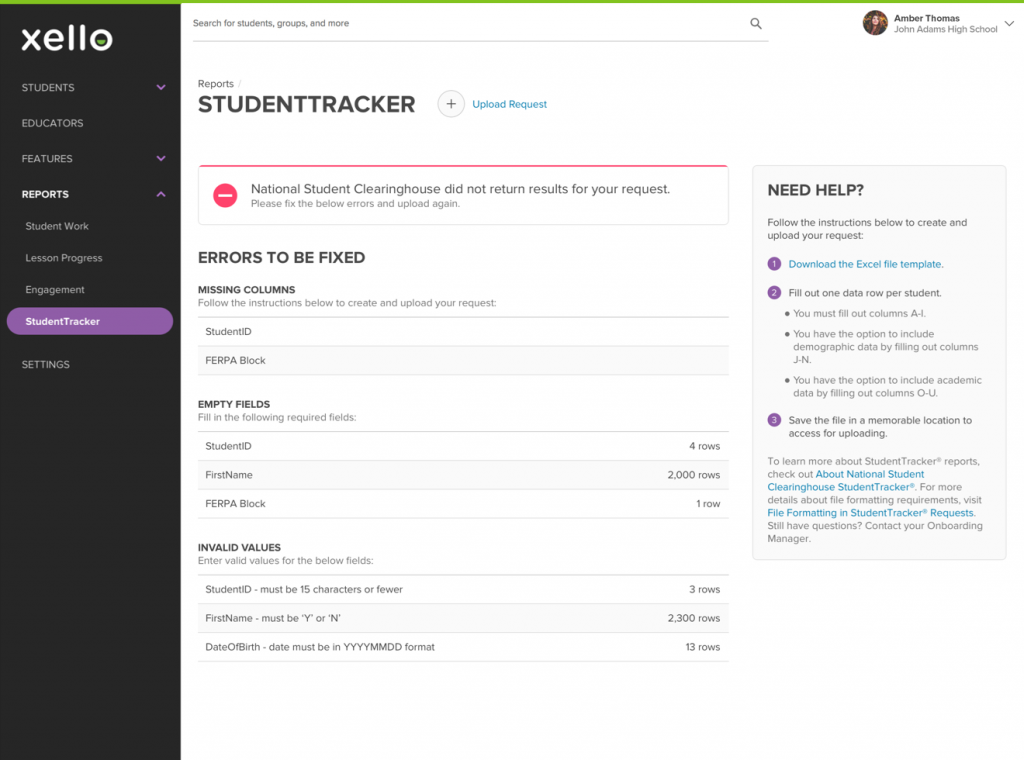 2. An automated email notification lets you know as soon as your StudentTracker reports have been delivered and are ready for you to view.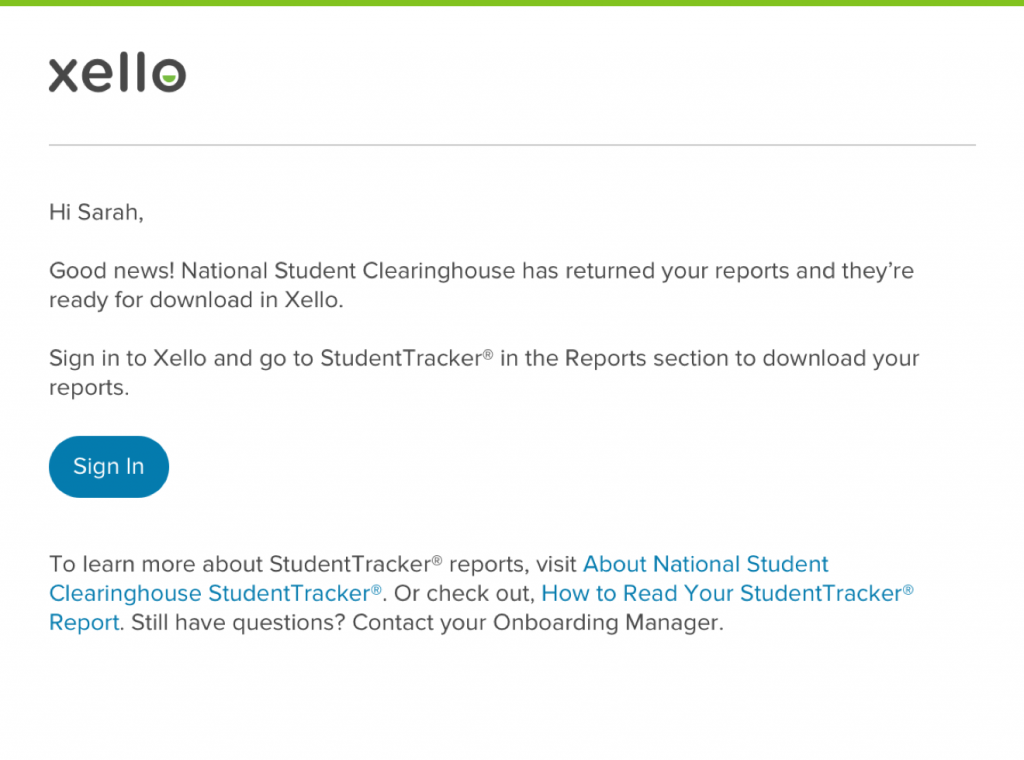 3. Your reports are safely stored in Xello for easy access and can be downloaded in your preferred file format (PDF or Excel).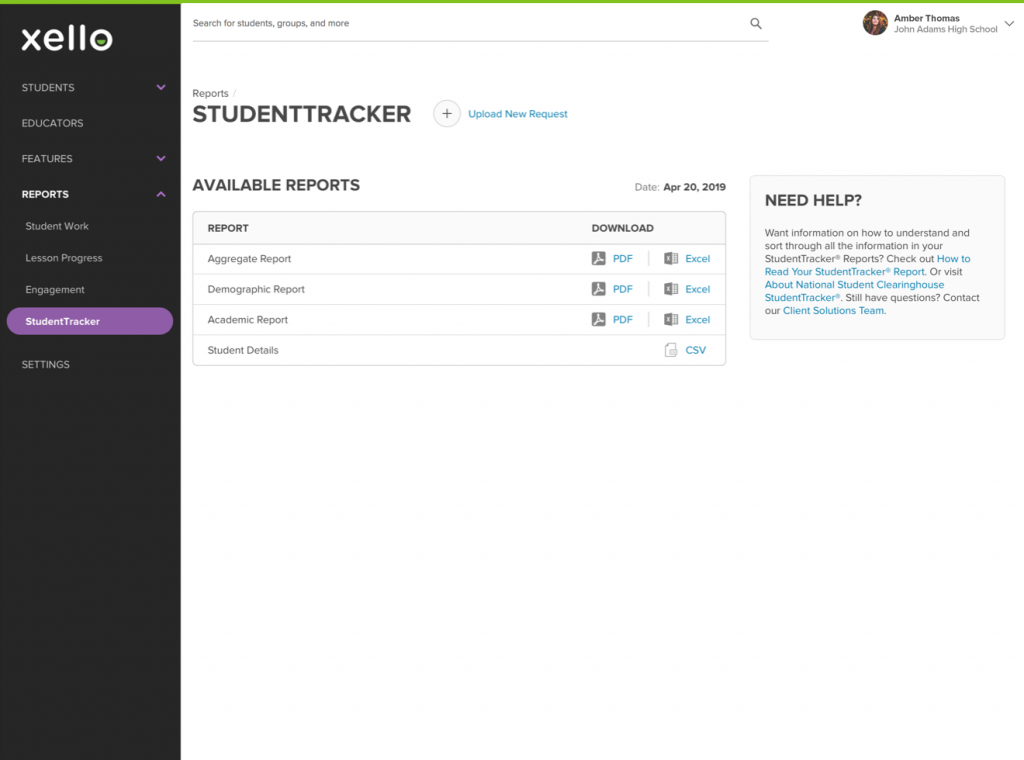 Ready to Get Started with StudentTracker Reports in Xello?
The best time to enable the StudentTracker integration is over the summer, ahead of when NSC refreshes their college data—and it takes just 10 days to get set up!  If you are the Xello program lead for your school and are interested in setting up the NSC StudentTracker Integration in Xello, feel free to give us a call at 1-800-965-8541 or send us an email at help@xello.world. Please note, there is an additional annual cost of $595 per high school.
Once it's live in your account, you'll see a link to StudentTracker in your Reports section. Simply follow the step-by-step instructions to upload your student data and voila – your StudentTracker reports will appear in Xello within 10 days!