College Planning Enhancements in Xello: What's New and What's Coming?
Xello Team
|
July 19, 2023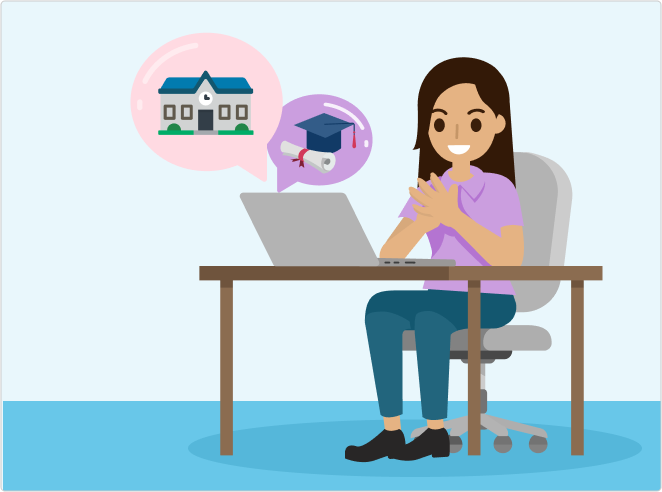 Many new and improved enhancements have been added to the college planning experience in Xello. Read all about it!
Before we know it, college planning season will be in full motion. To alleviate the stress that often comes with the planning process for both students and educators, we're sharing what's new and what's coming up in the Xello college planning experience.
Join our College Planning webinar on July 26th
Recent Releases in Xello
*New* Xello Communities
We're excited to announce the launch of Xello Communities. Students can access a "Community" tab on the profiles of participating colleges in Xello, where they can engage in authentic conversations with college admissions, ambassadors, and other prospective students before they even make an inquiry.
Communities help boost student engagement in the college search process by making them feel more invested in their future and motivated to take charge of their own education. It also streamlines the college search process and reduces the number of tools students need to use. This can make the process more manageable and efficient for students and reduce the number of tools educators have to monitor. It's a win-win!
Give your district the chance to be part of a growing trend in the college exploration experience—and at no extra cost.
Note: Xello Communities currently isn't available in all states, but we are gradually rolling this feature out! Reach out to your Success Manager to see if Communities is available in your state.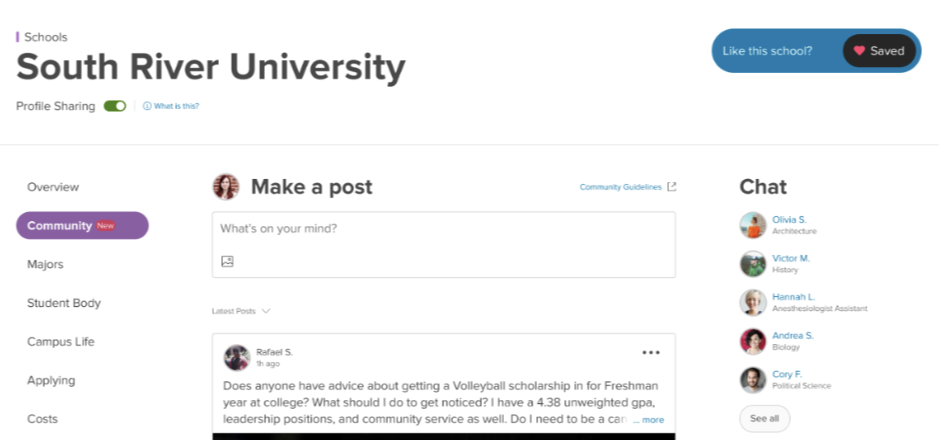 Easily track sent transcripts
We've given you more options to track and record how transcripts are delivered to colleges. So, whether you've submitted a transcript through an online application portal, a transcript service, or popped it into the mail, you can now mark transcript requests as complete and maintain a record for accurate tracking.
Along with this update, educators can now quickly see if a transcript was sent from Xello through National Student Clearinghouse's secure delivery network or if it was sent by email, mail, or another method.
This update means you can now easily track student transcripts and see how they are sent to colleges, making the whole process smoother and more reliable for you and your students!
Completing recommendation letters in Xello
You can now track, manage, and send recommendation letters directly in Xello! When your students request a recommendation letter, you'll receive an email just like you did before. But now, you'll get a link directing you to Xello, where you'll see the recommendation letters that have been assigned to you. And, if you're an admin-level user, you'll also see all the assigned requests for your school. This means, you'll be able to easily see which requests have been assigned to you and quickly complete recommendation letters for your students.
Rest assured, students who request recommendation letters from referrers outside of their school, like mentors or coaches, can still submit their requests like before.The referrer will receive an email with a link to complete the request.
Now, educators can simply complete recommendation letter requests without ever having to leave Xello.
Join our College Planning webinar on July 26th
Coming to Xello This School Year
Request teacher recommenders from other schools
We're adding some updates to support students and educators who use Common App in Xello!
Soon, students will be able to request recommendations from their previous teachers at other schools. That means, students who might not feel ready to ask their current teachers or have had a previous teacher transfer out of their school, can confidently send recommendation requests as long as the recommender is in the same district and using Xello's Common App integration!
For educators, we'll be adding a student's FERPA status to the Common App application forms page for counselor forms and teacher evaluations. That way, you can quickly see whether or not students have completed the waiver before you begin working on the forms!
Upload test scores
Educators will be able to easily upload and access student test scores so you can get a comprehensive view of your students' performance. With templates for SAT/ACT and GPA, plus the option to add custom scores, it simplifies the management and reporting of test scores by giving you a centralized source of information. That way, you can provide personalized guidance and advice to your students, increase scholarship funding opportunities, and ensure compliance with state mandates.
For students, this feature will help them stay on top of their academic progress, identify their strengths, and pinpoint where they need to spend time studying to improve their scores. By having access to their test scores in Xello, students will feel empowered to take control of their learning and work towards their academic goals.
Surveys
Surveys will let educators easily create and send surveys to students, which makes tracking college application outcomes, self-evaluations, and feedback more organized and efficient. This feature will be fully customizable, so questions can be tailored to an your needs and sent to specific groups of students.
For educators, you'll have the opportunity to gain valuable insights and better support your students with college planning, increase engagement, and track outcomes.
Here are just some of the ways Surveys can be used for college planning: To track scholarships, FAFSA, and college application outcomes/destinations and create college readiness surveys for your students. Students can report on their college application results, share where they plan to attend, and provide feedback throughout the college planning process. That way, they can receive the support they need when researching, applying, and deciding on colleges.
Enhancements to Scholarships
We're expanding our scholarship database to include national, state, and institutional scholarships, in addition to the local scholarships added by educators. This means over millions of new scholarship opportunities will now be available within Xello to help students achieve their academic and career goals.
Our built-in matching tool will help students find the best scholarships based on their criteria, making the search process even easier. Plus, educators and students can feel confident knowing we take extra care to ensure all scholarships in our database are carefully reviewed and that student information is kept safe and secure.
We understand that students are interested in learning about the scholarship process earlier in their journeys. That's why we're making Scholarships available to all high school students, expanding our access to 9th through 12th grades.
Xello is Enhancing Its College Planning Experience
With lots of exciting features in-market and on the horizon, we invite you to join our College Planning webinar on July 26th at 12 PM ET.
Plus, don't miss our annual AMA with Xello founders Matt McQuillen and Jeff Harris on Wednesday, August 23rd at 12 PM ET. Register now to save your spot!
If you have any questions or need additional information on the upcoming college planning enhancements, reach out to your Success Manager to book your school year kick-off calls.