Prepare Students for Life with an Amazing Course Planning Experience
Lynda Byrne
|
February 5, 2019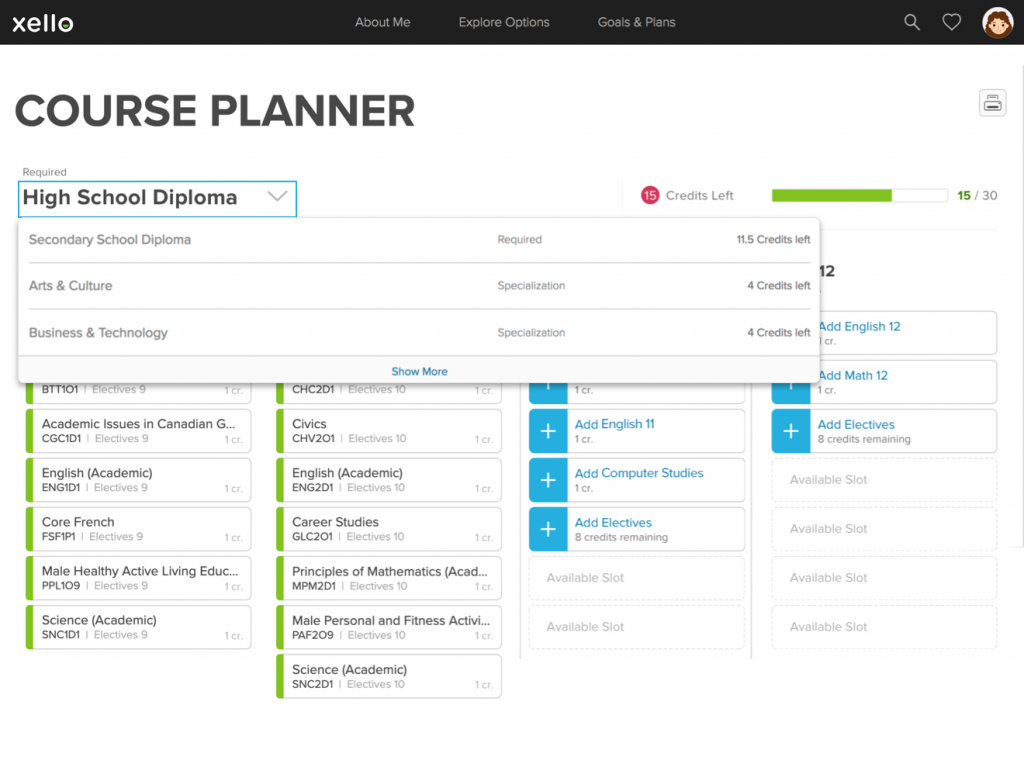 Course planning is a critical time for students to formulate their academic roadmap for the year ahead. Read how to make the most of it.
The course planning experience provides teachers and counselors with a chance to make sure students are on track to graduate and achieve their future goals.
But beyond preparing for the upcoming year, the act of choosing courses is also a great opportunity to teach students essential skills to make any planning situation easier.
Here are a few ways to use the course planning experience to teach students of all grades life lessons that will set them up for future success.
Encouraging Self-Agency and Independent Problem Solving
If there is a dedicated time for course planning, encourage students to do their homework and come prepared. With career planning software, students have the advantage of a clear sightline into their future college and career options — insight that can be used to work backwards and choose courses now to set them up for future success. While many students may be scared to start building a plan on their own, the reality is they have a lot of the knowledge and resources needed to get a head start. First, encourage students to review their college and career goals as they build their course plans.
What prerequisites do they need for their desired college program or major?
What pathway do they want to pursue?
Are there special diploma requirements to meet?
Encouraging students to ask these critical questions and take a first stab at creating their course plans challenges them to research options, problem solve and take ownership over the planning process.
More independence in selecting high school courses is also a great primer for choosing courses in college. Once at college, students won't have access to the same hands-on assistance with their course selections. Post-secondary academic advisors will expect students to come prepared with at least the first part of a plan. Empowering students now, and encouraging them to take initiative in the course planning process positions them to take control, make decisions and feel engaged and invested in their future.
Student agency in the course planning process also creates a more efficient coaching process for teachers and counselors. Guidance from a counselor or instructor is essential as students choose their direction — but it's difficult to deliver at scale. If you're lucky enough to have a low student to counselor ratio, you can facilitate a codependent course planning experience. But in reality, student to counselor ratios average closer to 400:1.
Even when course planning is in a classroom setting, students benefit from having their course selections started before arriving at class. With this pre-work, counselors and teachers take on more of the agent role. They're looking out for their students — acting as a coach and serving as a sounding board. The result is more time guiding students, and less time supervising their choices.
Building Communication Skills
It's often a common practice to have parents sign off on student course plans. If this is the case in your school, encourage students to include their parents or guardians in the planning process — well ahead of the course selection due date.
Some parents have strong opinions about what classes their child should take. Opinions that may be very different from what the student has in mind. Involving parents in course planning from the outset opens up the line of communication around students' interest and the post-secondary pathway they're considering. It becomes a catalyst for parents to better understand their child's goals and aspirations.
If there is misalignment, having this conversation early in the process gives students the opportunity to practice their ability to self-advocate. If there are distinct differences between students' plans and parent expectations, it's a great chance for students to practice the fine art of communication and negotiation—a vital skill required in all career paths.
Early parental involvement also means fewer administrative headaches. When everyone's aligned with a students course selections, final parental sign-off becomes a breeze. Last minute course changes decease. Parent-teacher conferences become less about explaining student plans, and more about how all parties can support students in achieving their goals.
Learning to Plan Ahead, Organize, and Prioritize
For many high school students, time management and planning skills aren't instinctual. In fact, research shows that long-term thinking doesn't often begin until middle adolescence, with a serious focus on future career choices not occurring until late adolescence. But with increasingly complex demands and having to juggle school and extracurricular commitments, learning to plan ahead and prioritize is critical.
If a student knows early in their high-school career the post-secondary path they're leaning towards, encourage them to take the time now (while they have it) to build a multi-year course plan aligned to their goals. If the student needs a particular 12th-grade science credit to get into a computer science program, they can reverse engineer their 4-year high school course plan to ensure they prioritize critical prerequisites in earlier grades.
Encourage students to start their course planning by first reviewing the careers and college objectives they want to accomplish. Working backward they can start choosing the courses that are going to help them reach their final goals. Doing this early allows students to play with multiple configurations and variations of their plans — giving them options and allowing teens to plan ahead for different possible scenarios.
Pre-building course plans for future years also enables students to adjust their expectations for extracurricular commitments and avoid over-scheduling. For example, if a student is intending to take a part-time job in 11th-grade, they can plot their potential course selections two years earlier. Planning a year or two ahead ensures sufficient time to prioritize and juggle courses calendars to carve out sufficient time for school, work, and their other interests — while still meeting graduation requirements. It gives students peace of mind that they'll be able to easily fit everything into their schedule — well before the upcoming school year.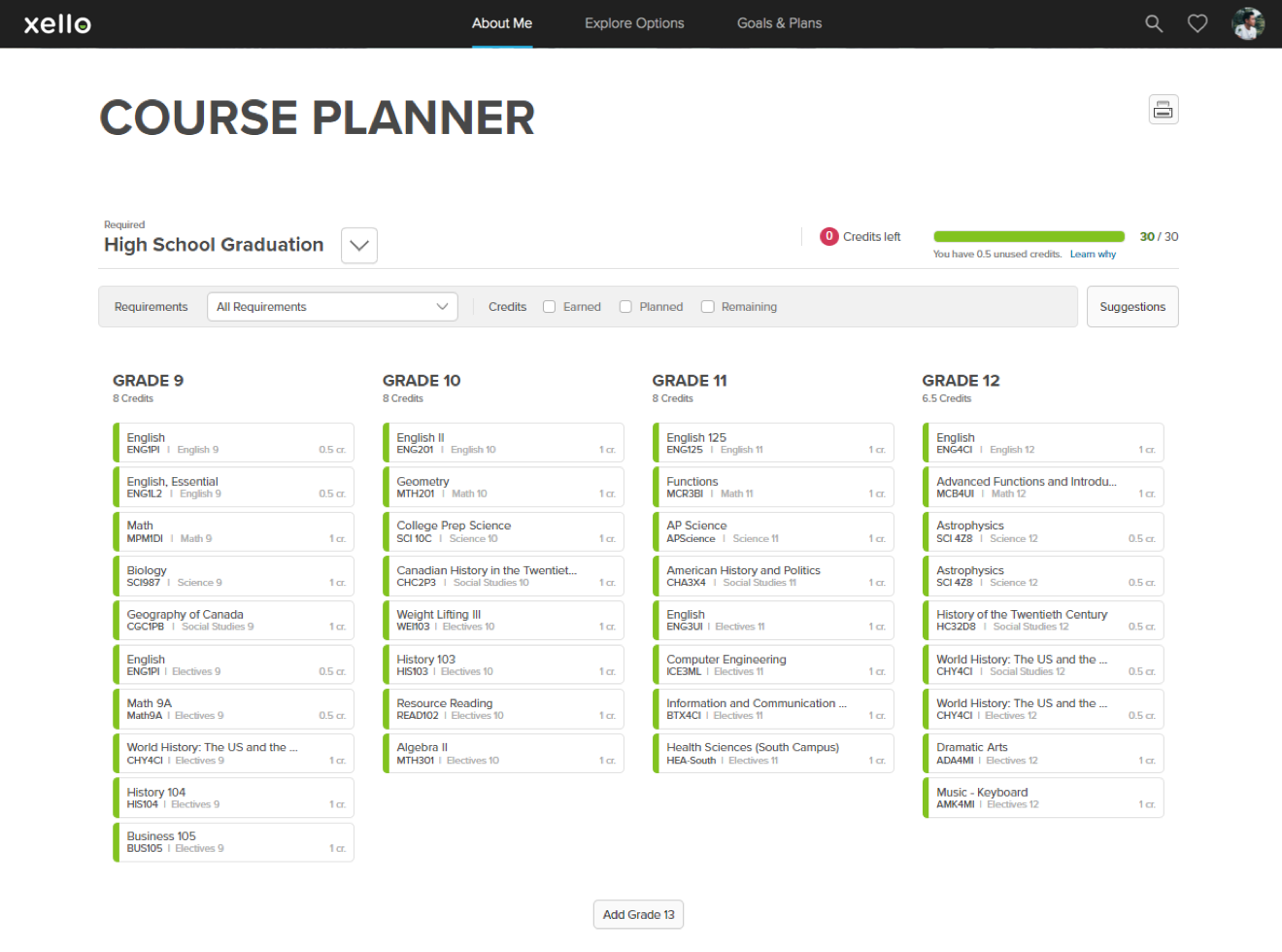 Even though course planning with students can feel like an arduous task, it is a great chance to create an invaluable learning experience for students that's applicable long after high-school. If started early, it can also reduce the administrative work on your plate and make this a growth and development opportunity for your students.
Looking for a refresher on course planning? Be sure to check out our online resources for our Career Cruising and Xello programs or watch this pre-recorded webinar on Xello's Course Planner.
If you're not yet setup with Course Planner at your school but would like to learn more, feel free to contact us help@xello.world.