Future-Readiness Starts Early with Xello for Elementary
Xello Team
|
August 19, 2019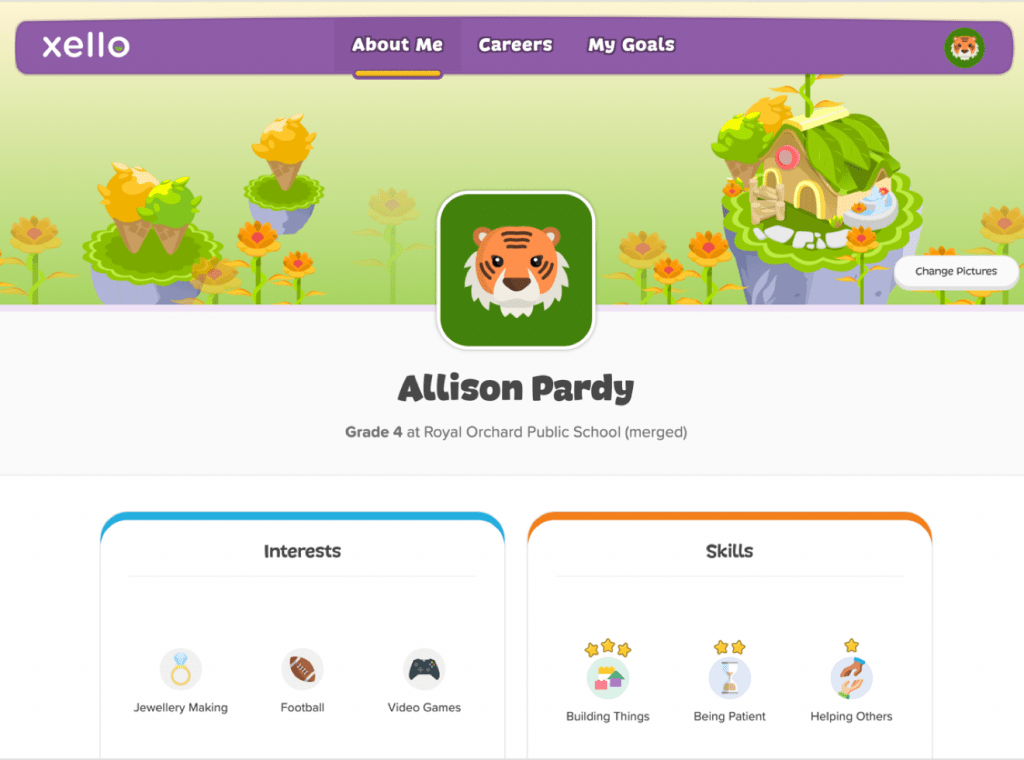 Is there such a thing as starting too early?
When it comes to preparing for the future, the answer is no. In fact, a growing body of research indicates that the earlier educators can start exposing children to concepts around career development, the better. That's because as early as kindergarten, children begin to form opinions about careers and express occupational dreams.
Many of these children (36%) base these dreams and aspirations simply on the people they know. By four years-old, many have already prematurely removed certain career options from consideration based on biases and gender stereotypes.
So it comes as no surprise that guidelines and policies surrounding career awareness and development are expanding to earlier grades. The American School Counselor Association (ASCA) recognizes the importance of an early start. Their college- and career-readiness standards outline the mindsets and behaviors students need to build for success as early as kindergarten.
Similarly, both the Michigan State Board of Education and the Pennsylvania Department of Education have designed career development models and standards to begin in the elementary years.
"With a growing emphasis on giving students early exposure to the world of work, and the engagement we saw with Xello for middle and high school students, we quickly saw the value in creating an elementary program," says Kim Turnbull, Product Owner for Xello for Elementary.
"We were also motivated by our personal connections. Many employees at Xello have families of their own. Looking at what their children were doing in school and the move towards building social-emotional intelligence and soft skills inspired us. Teaching these critical skills coincided with Xello's more expansive definition of future-readiness and a broader view of career development. We're on board with that philosophical shift and are thrilled that Xello for Elementary can play a role in preparing our youngest generations for success."
An Age-Appropriate Introduction to Future-Ready Concepts
So how does Xello for Elementary work?
Xello provides two different elementary student experiences. One for students in grades K–2 and another for students in grades 3–5. Tailoring the student experience to their cognitive development at each stage was critical to ensure easy engagement with the program and clear understanding of concepts.
The K–2 experience celebrates student curiosity, encouraging them to explore 'Career Town' and complete a series of fun, exploratory activities. These activities introduce students to the different roles people have in the home, at school, and in the community.
To help ensure a smooth transition from elementary to middle-school, the Xello 3–5 experience leverages the same hallmarks as Xello's award winning program for grades 6–12.  The experience for students in grades 3–5 equips students with the skills, knowledge, and attitudes that become the building blocks of meaningful life and career development.
Through grade-specific activities and experiences, students build self-awareness, explore their future options, and begin building critical social-emotional intelligence. The result? Students with greater confidence and a more complete understanding of the opportunities ahead.
Encourage Self-Discovery
Elementary students begin their journey in Xello by crafting the story of who they are now and what makes them unique. They're able to upload or customize their account by creating an avatar—and 3–5 students can add a cover picture to fully personalize their space.
Students are encouraged to identify their skills and interests to showcase their unique personalities. The work is done both in the classroom through supplementary activities and online through the completion of assessments and reflection questions.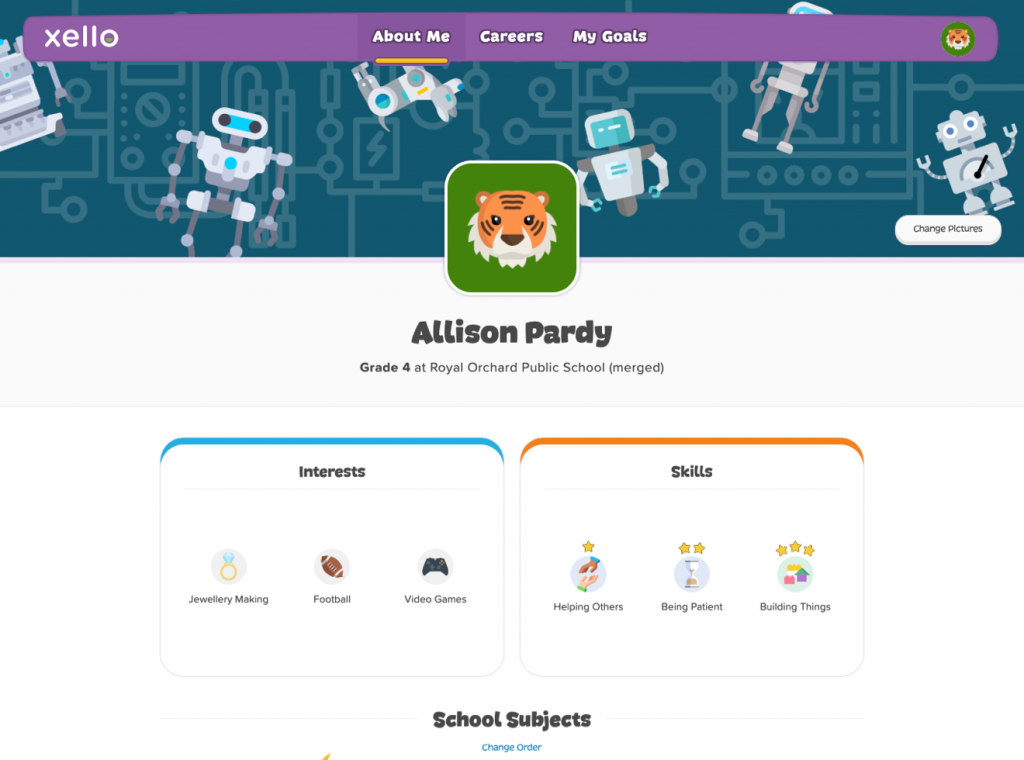 For students in grades 3–5, there's also a special section in the program to add achievements.
"It was important to give students at this age an opportunity to celebrate what's important to them," says Kim. "We wanted to show them that they don't need to define their achievements so narrowly. The space needed to feel inclusive and help students think beyond conventional types of achievement—like school or sports."
Students also have the opportunity to identify their favorite school subjects, helping educators understand their academic interests. As a result, this makes parent-teacher conferences much more insightful and provides educators with a better sense of how students feel about what they're learning.
Create Career Awareness
With vibrant and engaging content, students are able to expand their career knowledge and better understand their future options.
By touring the six locations in Career Town, K–2 students are introduced to different career pathways and occupations within each of those paths. They gain a better understanding of the characteristics required for each job and the type of work required.
In Xello 3–5, students explore over 200 career profiles. Short descriptions make content easy for students to comprehend, while discoverable facts, stories, and biographies help bring careers to life.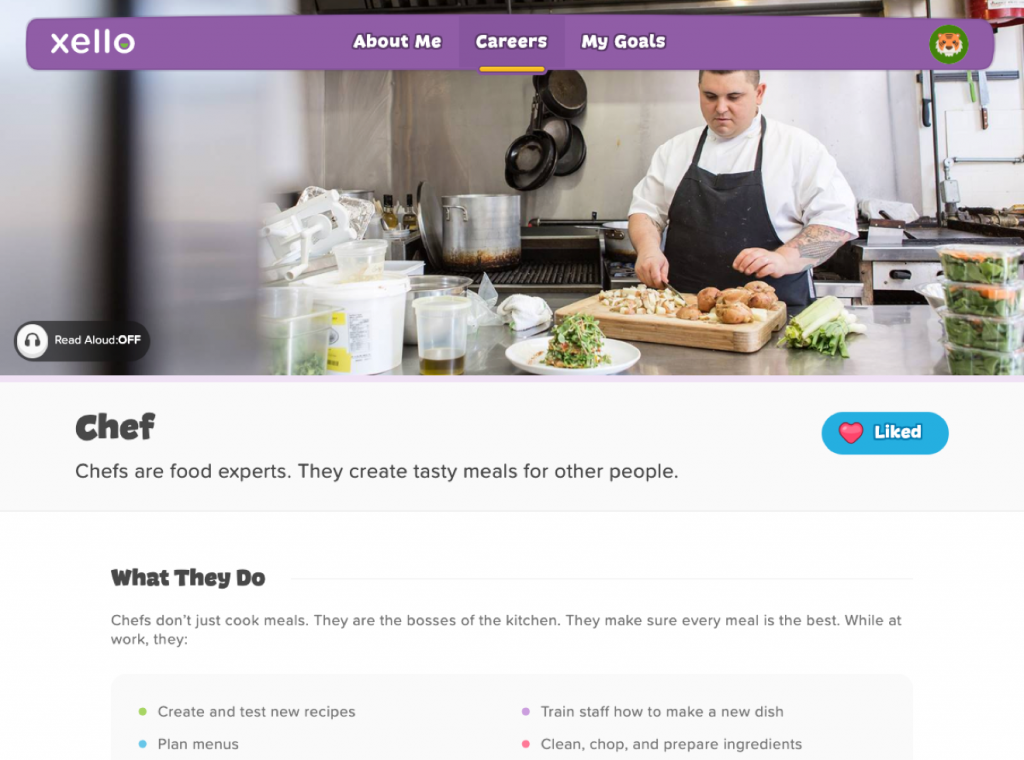 Students develop a better understanding of the education, training, and various pathways to each career. With the ability to search, sort, and save favorite options, students can compile a list of careers relevant to their interests—exploring careers they would have never otherwise discovered.
Teach Social-Emotional Skills
Beyond building career awareness, Xello for Elementary also teaches students critical skills and social-emotional competencies to succeed. Through supplementary and in-program activities, students learn key concepts like self-management, resilience, and empathy.
Xello for Elementary provides ready-made curriculum that educators can use in the classroom or as take-home assignments to teach key concepts in a fun and engaging way.
Elementary lessons and activities are aligned to national and state elementary curriculum and development mandates. They're carefully sequenced, self-paced, and story-driven to help fully engage students and help guide them through their experience using the program.
They also feature original characters, carefully crafted with unique personalities and characteristics.
"We didn't want students to resent having to use the program," explains Kim. "And if it's not relevant or fun, students won't engage. That's why the characters were so critical. We wanted to make sure we could build immersive stories and introduce complex concepts in an attainable way for this age-group. The characters were a point of engagement and allowed us to strip out things like gender and cultural biases."
Xello for Elementary: Developed to Support Elementary Educators
Teachers, counselors and district leaders can track the work their elementary students are doing through Xello's centralized educator portal. They can pull easy-to-read reports to understand student engagement, progress, and completion rates of key activities. Dashboards and reports match Xello's 6–12 reporting layouts, creating a consistent experience for every educator across the district.
Excited to Get Started?
Xello for Elementary perfectly complements Xello's middle and high school program, ensuring each of your students experience the most wholesome college and career readiness journey from K–12. So why wait?
Are you interested in introducing your youngest learners to their endless future possibilities? For more information on how Xello for Elementary works, visit our K–2 and 3–5 help centers or send us an email at help@xello.world.