Kudos to SchooLinks. They created a modern college and career readiness program that helps students discover postsecondary pathways and equips educators with tools to help them along the way.

Xello does that too.

It's one thing to meet your college and career readiness standards by simply checking all of the boxes; it's another thing to get your students excited about their futures and keep them engaged every step of the way.

While SchooLinks checks many of the boxes when it comes to popular features, Xello has dedicated over 25 years to designing a vibrant, accessible, and comprehensive K–12 solution that gets students excited to build self-knowledge, explore options, and forge a path to future success.

If you're looking for SchooLinks alternatives that truly engage students in their future planning while also delivering a streamlined experience for educators—read on.
Ready to End Your Search for SchooLinks Alternatives?
Why Xelll
Here's the Thing, Xello Is Different
The key to future success starts within. Xello guides students through a path of self-discovery, and helps each student create a personalized plan for the future. We know that no two students are alike, so Xello strives to provide students with the necessary tools they need to paint their own picture of success.

That's the biggest difference you'll find with Xello.

We don't just scratch the surface when it comes to future readiness, we break through it. We constantly ask the question: "What skills and knowledge does a student need to succeed?" And we understand that future readiness isn't one-size-fits-all. Our years of experience lets us reinvest in Xello and build the best possible platform to guide students to future success.
Part of what makes Xello unique is our 24+ years of EdTech experience.
Throughout those years, we learned the importance of creating an experience that allows every student to create their own successful path to the future. Planning isn't a "one-size-fits-all" thing. In today's ever-changing world you need a program that's flexible, current, and engaging to capture student attention and help them build the skills and knowledge to succeed.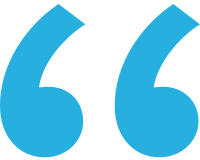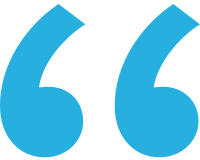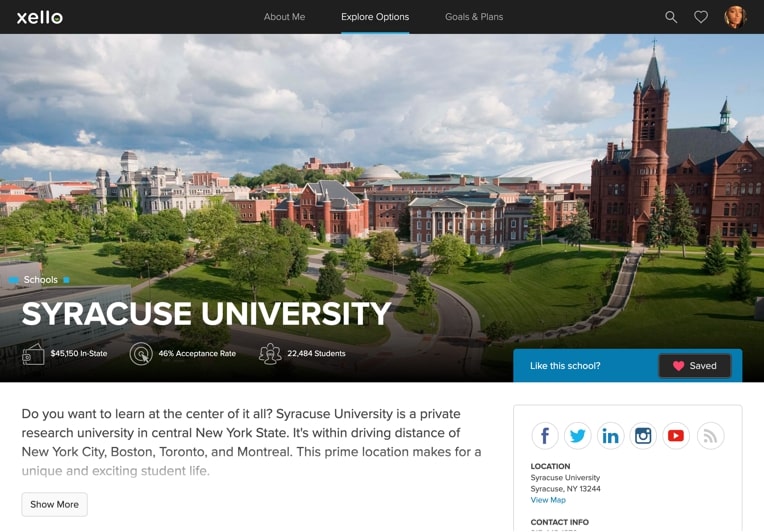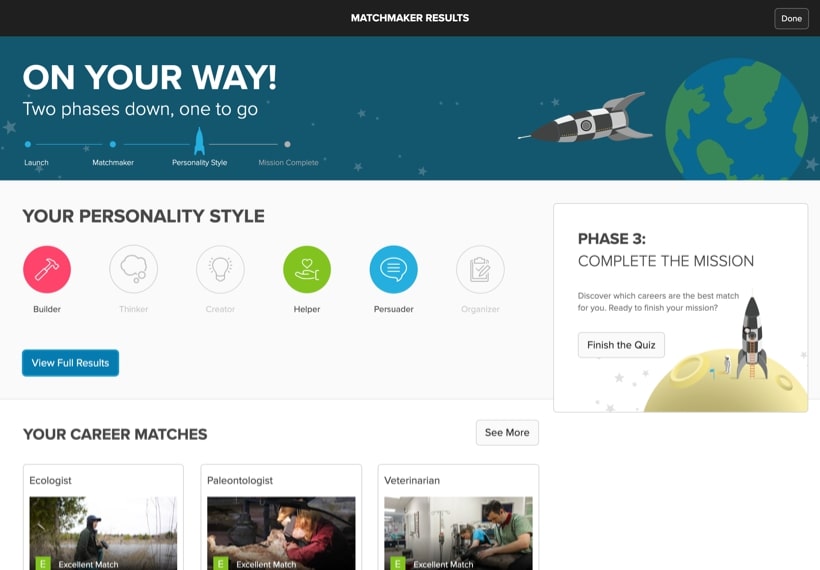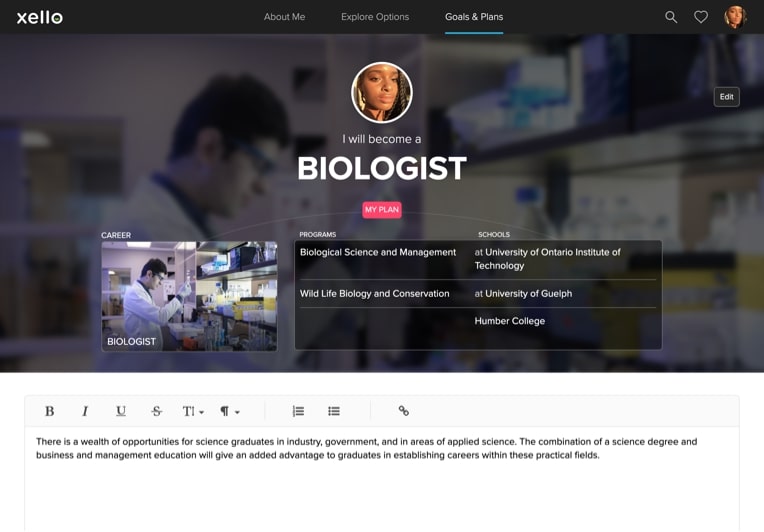 KEY BENEFITS
Why Choose Xello Over SchooLinks?
1
Get Students Excited About College and Career Planning Right from the Start
When it comes to college and career planning, getting (and keeping) students engaged is key. While SchooLinks created a program that checks all the CCR boxes, Xello took design and the student experience to the next level. Through original photography, vibrant student and career profiles, and age-appropriate content, Xello meets students where they are—engaging them in the process from start to finish.
2
Spark Career Curiosity Through Actionable Assessments
College and career readiness assessments often form the foundation of a student's exploration journey, so it's crucial that results are effectively distilled and help guide students towards the next step in their journey. SchooLinks' assessments provide short and high-level breakdowns of students' assessment results, but they end there. Xello goes the extra mile by thoroughly explaining students' results, providing tips for how to apply these new learnings, and linking students to relevant career clusters and matches for deeper exploration. This guided approach helps students seamlessly navigate from learning more about themselves, to building awareness around careers and pathways that may be a good fit for them.
3
Engage Students Through Career Options Tailored Specifically for Them
Let's face it: Career exploration can feel overwhelming at times for some students. Where do they start? How can they choose? Xello gives students the push start they need. While SchooLinks offers a general career exploration tool, Xello offers a personalized exploration experience by ranking careers on a scale from Excellent to Poor Match based on the student's assessment results. This way students can more easily make the connection between their interests and future options.
4
Empower Students to Discover and Build Life Skills Through Interactive Lessons
There's more to college and career readiness than exploration and planning. Lessons give students the means to develop critical skills for life beyond high school. SchooLinks shares valuable learning tasks by linking students to curated video content and having them self-report completion, but Xello takes this a step further. Xello's digital lessons have been thoroughly researched and built in-house to provide students with an engaging and interactive way to learn key concepts and establish work readiness and social-emotional skills. Students' lesson progress is tracked automatically and you can easily add to Xello's built-in lesson curriculum by creating custom lessons that meet your district's unique needs.
5
Save Time with Accurate and Easy Course Planning
To set students up for success beyond high school, students need to be able to select course plans that are aligned to the post-secondary pathway they envision for themselves. While SchooLinks includes a tool to help students with the basics of course selection, Xello offers a much more robust experience, including automated controls that check student course plans for accuracy and completeness, and educator overrides that enable counselors to exempt students from certain requirements. Xello's sophisticated course planning functions paired with its easy-to-use interface, makes selecting and tracking courses a breeze for students and a time saver for busy counselors.
6
Create Efficient Workflows for Educators, Saving Valuable Time
As an educator, time is of the essence. That's why it was important for Xello to deliver an easy-to-use experience for not only students, but for educators too. As an educator, you'll have a streamlined view into each of your students' work in Xello and can easily track engagement and progress. If you have a mandate to fulfill, Xello has your back by providing the critical reports you need to report progress, so you can check all of the boxes. Moreover, you can save valuable curriculum planning time, with our ready-to-use, fully integrated Lessons, which teach relevant life skills at every grade level.
7
Support All Students with a Program That Prioritizes Accessibility
Today's student population is so diverse, making accessibility more important than ever. While some programs strive only to meet the minimum requirements for accessibility, Xello has gone the extra mile to ensure that all students can have an engaging and meaningful future planning experience. Our program's navigation and visuals are all carefully designed to meet WCAG 2.0 (Level AA) standards with full keyboard, screen reader, and low vision accessibility. Additionally, all of Xello's content is written at an age-appropriate reading level and professionally translated into Spanish, making it accessible to your Spanish-speaking students and their families.
8
Hands-on Customer Support, Every Step of the Way
Xello takes its customer service to the next level. Dedicated support isn't an optional add-on, it's built into our core offering to ensure that you, your staff, and your students are set up for success. With Xello, each client receives dedicated account management and easy access to our expert Client Solutions team. Our team offers unlimited strategic and technical support by email, phone, and in-person. That includes ensuring your district's Xello roll-out goes without a hitch, and is fully integrated with your SIS and configured for easy course planning. Plus, you'll have access to our robust online library of free support resources to ensure you get the help you need when you need it.
We wanted to create a program that would get students excited to plan their future. But we couldn't do that without close collaboration with educators and students. Our team regularly conducts research to create a product made for students, informed by students, and designed to alleviate the most common issues we hear from district leaders, counselors, and educators today.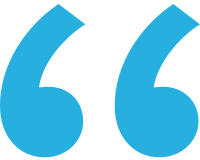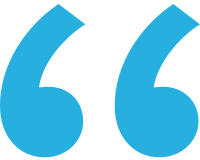 Client Testimonials
But Don't Take Our Word for It!
Check out what our clients are saying about Xello. Testimonials